Focusky Releases Amazing Tips and Tricks to Make Great Presentations
Industry: Online Marketing
World Leader in Video Presentation Software Turns Boring into Art
Hong Kong, China (PRUnderground) April 28th, 2016
World leading provider of video presentation software Focusky announces the release of some tips and tricks using their amazing 'Killer Business Presentation Tools' to turn any uninspiring and visually limited PowerPoint presentation into stunning creations.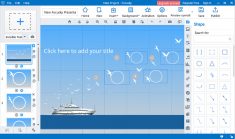 With an easy and intuitive interface, the Focusky video presentation software allows users to design professional videos with ease. Using these tips and tricks, their projects will not just be professional, but stunning creations bordering on works of art. Focusky offers them a large and varied selection of pre-designed templates from which to create a new project, unlike any found elsewhere. Using a variety of no cost and gratis items such as themes, backgrounds, shapes, characters, and smart arts; and having so many items to choose from allow users to really channel their inner creative and make presentations that draw people in to their subject matter, especially when the preferred method of classroom presentation according to surveys of students is the interactive presentation.
With so much emphasis put on the use of presentation these days to get across a lecture, relate numbers to a quarterly sales meeting, even inform shareholders about new products, another trick that Focusky recommends is previewing one's presentation prior to presenting it so that one can make necessary modifications before the final debut. And one will definitely want to be sure to save the project before exiting the software. It sounds like such a simple idea to remember and yet it is still one of the major reasons people lose information.
Lastly, users can upload video presentations to Focusky's unlimited hosting cloud platform to share globally without fear of malware of viruses infecting their users.
For more information, visit http://focusky.com/features.
About Focusky
Focusky is a premium presentation creating platform to create quality animations, presentations and videos. It provides the killer business presentation tool for the users to deliver the awesome visual experience. Both Windows and Mac users can take good advantage of it to make the animated video for presentation.