Leading Flip Book Maker Developer FlipHTML5 Released An Online User Manual
Industry: Technology
The release of their new free Help Manual will assist publishers in their endeavor of using the software and to make their experience a memorable one from the scratch.
Hong Kong, China (PRUnderground) October 15th, 2015
The ultimate flip book maker developer FlipHTML5 have always been taking incremental steps in their working to come up with something new every time. Their efforts are majorly based on the idea of making the things easier and beneficial for the end user. So whether it is their digital publishing software and flip book maker tool or their recently released "Free Help Manual", everything is created prioritizing their clients. Now with this new release, they have taken one more step towards giving their clients the best experience of working with them.
Reportedly, their new free Help Manual has been released in order to let their clients get a complete step by step assistance with anything and everything they want to know about their flip book maker tool, its features, how to use, how to start and every other detail. Simply put, this online user manual provides the detailed information about their innovative flip book maker software and its features.
Jackie Peng, handling Customer Service of FlipHTML5 says that their main aim has always been a complete customer satisfaction. They created this software to provide people a more effective option other than the other complex software available that require in-depth technical know-how on the user's part. So, they introduced their flip book maker software with extremely effective in-built features and easiest of the interface. And now with the release of their free online Help Manual, they aim at making the task much simpler.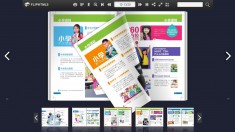 The manual helps users learn about each and every feature of the software. It lets them go through details of how to use these features in a step by step manner. The details about the desktop features, online publishing options, how to use editing tools, themes and templates, uploading pdfs and how to convert and manage, each and every step of the use of this software has been explained in detail. The manner of explaining in the manual is extremely simple so that even a common user, who is not a technical expert, can understand easily and become a master of using it and creating professional flip books, digital magazines and make their own mark.
With their continuous efforts for giving their clients more effective software with much simpler usability, "FlipHTML5" continues to prove why they have such a wide loyal client base worldwide.
About FlipHTML5
FlipHTML5 Software Co. Ltd. is a world leading provider of digital publishing software. For many years, They have focused on the research and development of outstanding range of e-publishing software for users around the world. Furthermore, they offer customized solutions for publishers in different industries.