5 Uber Scuba Dives to Add to Your Bucket List Today
Industry: Travel
From dancing with manta rays to an active volcano jacuzzi bath, this is our list of the ultimate scuba diving experiences available.
Indonesia (PRUnderground) March 27th, 2015
Whether you are an adrenaline junkie or just looking for a new hobby, what is certain is that a new world awaits you underwater.
Observe another realm as you navigate colorful reefs, bursting with corals and multicolored fish. Engage in the history of a forgotten city. Experience the thrill as the ocean takes you under it's spell in a explosive drift dive.
Grab your mask, fins and passport as we run through our pick of the 5 scuba dives you NEED to add to your bucket list today!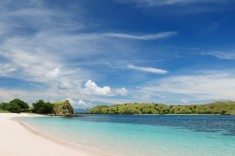 5. Touch Two Continents – Silfra Fissure, Thingvellir National Park, Iceland.
With up to 100 meters of visibility at temperatures of around 1 degree Celsius on average, a dive on Silfra Fissure allows you to submerge between two continents! The tectonic plates of North America and Eurasia are some of the most pristine waters around, and if you get thirsty – just take a sip, the waters are fresh and clean.
4. Take a Jacuzzi under an Active Volcano – Champagne Reef, Sumbawa, Indonesia
Watch as gas bubbles escape from the seafloor, like the bubbles in champagne, in this once in a lifetime dive experience. Situated at the edge of Sangeang Api volcano which recently erupted in May 2014, Champagne Reef hosts a black sand bottom with countless macro life to find, including the rare Wonderpus. Shallow up to 5 meters, and the air vents become abundant and the lava hot water bubble jets act like a Jacuzzi bath.
3. Behold the Underwater Pyramids – Yonaguni, Japan
Host to one of the most disputed discoveries of marine biologists to this date. Yonaguni lies 120km off the southern tip of Ryukyu discovered in 1986. It is thought to be the city of Mu, a fabled civilization, submerged approximately 2,000 years ago. Hammerhead Sharks litter the waters, which are said to be the third clearest in the world.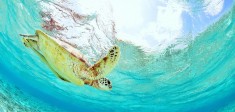 2. Perform in an Underwater Ballet – Manta Pont, Komodo National Park, Indonesia
Experience time stop as you watch as up to 40 Manta Rays perform an underwater ballet inches to your bubbles. These graceful and friendly creatures are abundant at Manta Point in the UNESCO protected waters of Komodo National Park. Though off the beaten track, you can dive komodo all year round to see this amazing mating ritual.
1. Private Diving – with your own Butler! – ALEXA Private Cruises, Yacht Charter, Indonesia
Charter your own private 100 foot Phinisi luxury dive boat, for the ultimate dive experience. ALEXA Private Cruises offers luxury liveaboard adventures in Indonesia. Included is a butler, chef and masseuse along with a private dive guide. By day, explore virgin beaches and wakeboard between scuba dives. By night, snuggle in with a glass of champagne and watch a movie Under the Stars. What's more is that there is only a single cabin on board – the perfect love boat.
About Uber Scuba Komodo
Uber Scuba is the premier dive center in Labuan Bajo, offering scuba diving, freediving and liveaboard safaris in the Komodo National Park. The conception of two passionate PADI diving instructors, Uber Scuba goes the extra mile to ensure you have the dive of your life.
The Komodo National Park is a UNESCO World Heritage site in the Flores Sea and consists of the three larger islands of Komodo, Rinca and Padar. Because of its unique geology and as a result of volcanic activity, this makes for stunning scenery both above and below water. White and reddish sandy beaches, blue lagoons teeming with fish and some of the most spectacular underwater sceneries in the world entice divers and non-divers from all around the globe.