Blue Label Vodka Wins 2015 SIP Awards Platinum Award
Industry: Food and Drink
The Houston-based company is the recipient of the prestigious, competitive, consumer-judged SIP Awards Platinum Award.
HOUSTON, TEXAS (PRUnderground) June 29th, 2015
Blue Label Vodka is proud to announce that they have been named the winners of the 2015 SIP Awards Platinum Award. The tasting competition took place on May 31, 2015, and the results were announced on June 15, 2015.
Blue Label Vodka is a rapidly expanding importer of premium Polish vodka. Currently, the high-end vodka is available throughout Texas but is now poised for an expeditious expansion through some of the market's leading areas.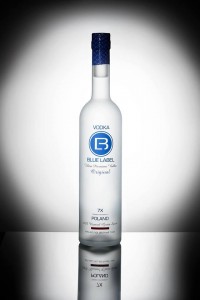 While the company is less than three years old, it has been the recipient of numerous awards. Blue Label Vodka was awarded a Silver Medal at the 2015 & 2014 San Francisco World Spirits Competition, a Gold Medal from Tastings International Review of Spirits in 2014, and the San Diego Spirits Founders Award at the 2014 San Diego International Spirits Competition. Blue Label Vodka was also the 2015 recipient of a Gold Medal and Best of Category at the Los Angeles International Spirits Competition.
The SIP Awards uses a unique judging process that differentiates it from other such competitions. This year's events were held at the Balboa Bay Resort in Newport Beach, California. According to the SIP Awards, "A cross section of consumer judges decides the true quality of spirit brands from around the world." According to correspondence from the SIP Awards to Blue Label Vodka, "On behalf of the SIP Awards, we would like to be the first to congratulate your brand on its recent accomplishment…This year's competition proved to be an even greater challenge for each of the 423 spirits competing for the coveted SIP Medals awarded to the top consumer's spirit of choice!"
Blue Label Vodka CEO and President Richard Rucker said, "It is a privilege to have been considered for this award, and to have won the Platinum Award at the 2015 SIP Awards is even more of an honor than our enterprise ever would have imagined."
Chief Operating Officer Erik Hoffman said, "Blue Label Vodka has grown immensely since its birth, and we are extremely proud to have won the coveted Platinum SIP Award. We truly believe this is a token as to where we have been and where we are going."
More information about the company is available at https://bluelabelvodka.com/.
About Blue Label Vodka
Launched in 2012, Blue Label Vodka is rapidly expanding into the hottest U.S. as a premium importer of Polish ultra distilled rye based vodka. Blue Label Vodka is now available at notable establishments throughout Texas and soon the entire country.