Dallas' #1 Roofing Company, Bert Roofing Inc, Launches New Website
Industry: Home & Residential
Bert Roofing is expanding its scope and is now launching a brand-new website, with more information on their numerous roofing services. Now, for all your residential and commercial roofing needs, the Bert Roofing website makes it easy to find what you're looking for! The new website is live!
Dallas, TX (PRUnderground) July 26th, 2018
The good folks of Bert Roofing are excited to announce a brand-new website. The goal of this new website is to better inform and engage Dallas residents regarding residential and commercial roofing services offered in the city and the surrounding areas.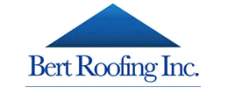 The new website puts a greater focus on Bert Roofing's commitment to quality service and exceptional customer satisfaction. Roofing solutions for the local community are within everyone's grasp, and it takes just a few simple clicks on the new website to get all roofing help you need.
Bert Roofing provides a broad range of commercial and residential roofing services in Dallas. From roof replacement to gutter systems, the licensed contractors provide clients with an exemplary source of quality roofing service.
What sets Bert Roofing apart from the competition is their commitment. It begins with the team. The hiring process is strict, they use the best equipment, and all construction and roofing materials are used appropriately. Whether a homeowner needs roof repairs, or a local business owner requires installation, Bert Roofing will get the job done right.
This newly-launched website is informative and offers Bert Roofing's customers and community all the information they need when it comes to roofing. Their services include:
Roof Replacement

Roof Installation

Affordable Roof Repair

Roof Maintenance

Siding

Patio Covers

Insulation

Skylight Replacement
For more information about Bert Roofing or to acquire a quote, visit their new website at https://bertroofing.com/contact-us/  or Google My Business.
About Bert Roofing
Since 1988, Bert Roofing has completed over 34,000 roofing projects. The have completed projects with every kind of roof type and slope in the book. In 1990, Bert Roofing received accreditation from the Better Business Bureau, and currently holds an astounding A+ rating, the highest possible from the BBB. A focus on quality and customer satisfaction is the reason for such an accomplishment!
Bert Roofing Inc.
10021 Cayuga Dr
Dallas, TX 75228
214-321-9341
About Bert Roofing Inc.