Detroit-Based All Natural And Organic Wellness And Body Care Company MICOPEIA Featured In The November 2019 Edition Of British Vogue
Industry: Health & Fitness
MICOPEIA's Regeneration Face &Amp; Body Oil Has Been Chosen As A Featured Product In The November 2019 British Vogue 'Pre-Party Pamper' Print Showcase Of Hand-Selected Premium Skincare Brands
Detroit, MI (PRUnderground) October 4th, 2019
Detroit-based all natural and organic wellness and body care company MICOPEIA has been chosen as a featured brand in the November 2019 edition of British VOGUE. A milestone moment for the company, MICOPEIA's Regeneration Face and Body Oil was selected to be part of the issue's print showcase of hand-selected premium skincare brands.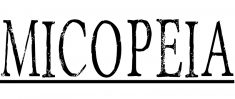 MICOPEIA's Regeneration Face & Body Oil is the brand's premium and affordable response to providing wellness in the form of topical beauty and skin care. Formulated to repair, moisturize and leave the skin both refreshed and radiant, MICOPEIA's Regeneration Face & Body Oil includes certified organic and kosher ingredients such as sustainably wild-harvested conifer resins and tamanu oil, allowing skin to be nourished with moisture and feeling beautifully smooth following use. MICOPEIA's Regeneration Face & Body Oil is vegan, fragrance-free and cruelty-free, without the use of synthetic ingredients, sodium laurel sulfate, parabens, phthalates, chemicals, fillers and/or petroleum.
"Skincare is very much a key and integral focus for Vogue Magazine. Featuring more beauty content than ever before, this campaign is extraordinarily relevant within our pages and is very much admired and appreciated by our readership. Vogue remains the destination that readers look to both in print and online to learn about the latest beauty trends, launches and innovations, and this growing interest that we have from readers specifically in the skincare category means that there has never been a better time to showcase skincare-focused brands within our pages. Our print showcase, entitled 'Pre-Party Pamper' is designed to provide an exclusive range of hand-selected premium skincare brands that we're confident the Vogue readership should have on their radar over these key months in the run-up to the Christmas and party season," expressed Lucy Hannam, Senior Sales Executive at British VOGUE.
Created by owner Rashon A. Massey after studying under the tutelage of pioneer herbalists to help reduce the inflammation of his rare tumors, MICOPEIA's product line is handcrafted in small batches right in the heart of Detroit's West Village neighborhood, using ancient recipes and production processes.
"Since launching MICOPEIA, the reception to our products has been both positive and inspiring! In the 3-months following the debut of the MICOPEIA.com website, we have been able to reach customers in New Zealand, Canada and the United Kingdom, and it simply motivates us further, knowing that our Regeneration Face & Body Oil has been recognized by both British Vogue and the teams at Condé Nast Publishing, to be featured in British VOGUE's November 2019 'Pre-Party Pamper' showcase. I am beyond elated that this issue's cover is being graced by a woman of color, British model Jourdan Dunn, and as a Chicago-born African-American, I am both humbled and honored to have my premium handcrafted body oil featured in the same issue that shines a spotlight on the history making African-American screenwriter and queer icon Lena Waithe. With heartfelt gratitude, I thank British VOGUE's Editor-in-Chief, the iconic Edward Enninful OBE, for championing such a global focus on the impact and rise of people of color in both fashion and business," stated Rashon A. Massey, Founder of MICOPEIA.
MICOPEIA's Regeneration Face & Body Oil is available in both .5 and 2 ounce sizes, and for a limited time only, to celebrate the product's appearance in British Vogue and to bring in the holiday season, customers can use the checkout code VOGUE for 10% off their orders at www.micopeia.com.
ABOUT MICOPEIA
At the beginning of January 2019, the founder of MichiganPharmacopeia.com, Rashon A. Massey, launched the all natural and organic wellness and bodycare line MICOPEIA. Using time-honored recipes and production processes that date back many generations, passed down to him while studying under the tutelage of pioneer herbalists to help reduce the inflammation of his rare tumors, MICOPEIA's product line is handcrafted right in the heart of Detroit, distributing herbal-infused body oils, lotions, tinctures, soaps and herbal supplements throughout the world. For more information visit MICOPEIA.com.
ABOUT RASHON A. MASSEY
As founder, CEO and sole-owner of Michigan Pharmacopeia LLC, Rashon Amiel Massey is responsible for all content produced and distributed by MichiganPharmacopeia.com and it's affiliated social media accounts; moreover, Rashon is the only herbalist/staff responsible for the original formulations, development, production, manufacturing and distribution of the products sold under the brand name MICOPEIA. In addition to these responsibilities, Rashon Massey is an active member of the Sean Anderson Foundation. Prior to volunteering at the foundation, Rashon spent just over a decade working in the music industry as a marketing figure and event producer. A career that was launched as a radio host for National Public Radio (NPR) affiliate 89.1 WEMU while attending Eastern Michigan University, Rashon has grown to become a successful social media strategist, and in 2012, was named the official red carpet correspondent for MusiCares at both the 54th GRAMMY Awards and GRAMMY Week activities. Rashon has facilitated partnership and sponsorship initiatives with brand and organizations including SENNHEISER, Chevy, the Focus for Health Foundation, Live Nation, AEG Live, Universal Music Group Distribution and Oxfam America. In 2016, in response to the City of Flint's water crisis, Rashon spearheaded fundraising and partnership efforts for the Sean Anderson Foundation's "Heal Flint's Kids" online campaign, raising nearly $100,000 for the "Flint Child Health & Development Fund".
About MICOPEIA
At the beginning of January 2019, the founder of MichiganPharmacopeia.com launched the all natural and organic wellness and bodycare line MICOPEIA. Using time-honored recipes and production processes that date back many generations, passed down to him while studying under the tutelage of pioneer herbalists to help reduce the inflammation of his rare tumors, MICOPEIA's product line is handcrafted right in the heart of Detroit, distributing herbal-infused body oils, lotions, tinctures, soaps and dietary supplements throughout the world! For more information visit MICOPEIA.com