FACEBOOK And Why You May Not Be Getting Responses And Posts From Friends
Industry: Social Media
(PRUnderground) February 11th, 2011
Alex Miranda
NEW FACE BOOK SETTINGS RESTRICTS THE POSTS YOU SEE …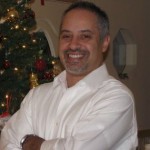 Well my friends Facebook is at it again. I was just about to post this when I found out of another major change they did without telling us. Did you know that now your business fan page can now be used as your account? If you go to the top right and click on account, it is right there "Use Facebook as Page" . This means that instead of me linking my personal page to my business page, all I have to do now is create a fan page without linking it. I'll have to check this out further.They are forever changing the way we interact via social media and don't even tell us!!!

OK now back to my original post. Why is it that it suggest friends, but then if I try and befriend the friends it suggested…they warn me that I may be clicking on a friend who is not my friend and I may risk being blocked or they just straight out block me, ban me or even worse….. DISABLE MY ACCOUNT!!!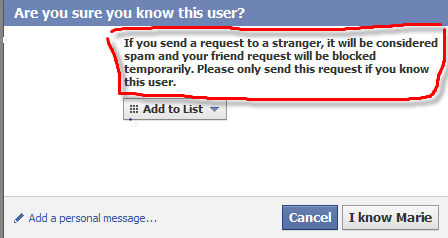 Did ya think the Facebook team would have sent a release or inbox us all,  the way Tom from My Space would inbox us? It's almost as if they sit in the background rubbing their sinister hands and licking their chops like a bunch of mad scientist waiting to see if we can figure out the changes they make and how to fix it.
So here is the latest change which I took from a note someone posted on Facebook:
Have you noticed that you are only seeing updates in your news feed from the same people lately? Have you also noticed that when you post things like status messages, photos and links, the same circle of people are commenting and everyone else seems to be ignoring you?
Don't worry, everyone still loves you and nobody has intentionally blocked you. The problem is that a large chunk of your friend/fan list can't see anything you post because the "New Facebook" has a newsfeed setting that, by default, is automatically set to ONLY SHOW POSTS FROM PEOPLE WHO YOU'VE RECENTLY INTERACTED WITH OR INTERACTED WITH THE MOST (which would be limited to the couple of weeks just before people started switching to the new profile).
So in other words, for both business and personal pages, unless your friends/fans commented on one of your posts within those few weeks or vice versa – you are now invisible to them and they are invisible to you!
HERE'S THE FIX:
Go to the bottom of your news feed home page and click on"Edit Options".

Click on the dropdown menu next to 'Show posts from:' and select "All Of Your Friends and Pages" and then click Save.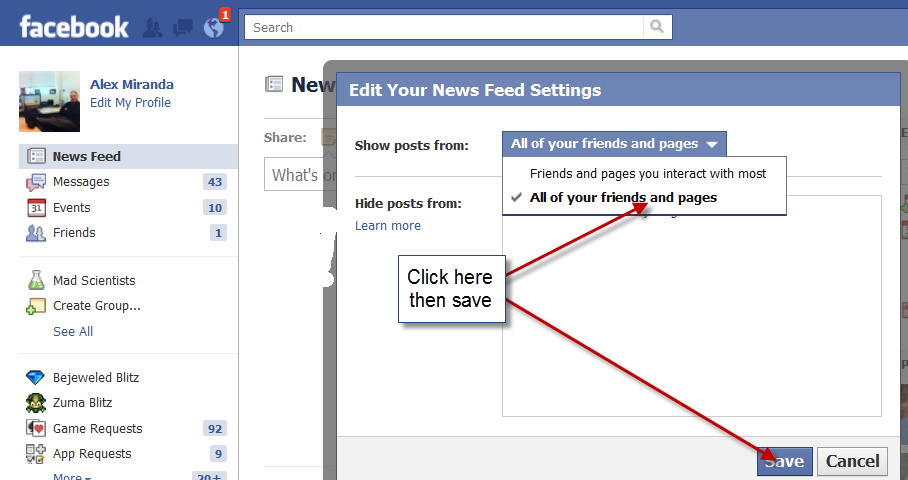 Note: This is the fix for personal pages but I am unsure of whether or not the business pages are set up the same way.
Simply posting an update about it won't do any good because lots of your friends/fans already can't see your posts by default. You'll either have to send out a message to everyone on your list (which I'm not even sure business pages can do and is a rather tedious method) or post an event explaining the situation like this one and invite your entire fan base and/or friend list. You can also tweet about it hoping that most of your fellow facebookers are also on twitter.
PLEASE FEEL FREE TO SHARE THIS NOTE WITH AS MANY PEOPLE AS YOU CAN SO WE CAN TRY AND GET EVERYONE INFORMED AS SOON AS POSSIBLE. Anyone who isn't seeing your posts right now will never see them until they have changed their settings as explained above.