Forget the pollies – but remember the porky pies!
Industry: Food and Drink
Politics and election promises can make quite dull topics at times, however there are always the "porky pies" of a more mouth-watering variety.
United Kingdom (PRUnderground) June 1st, 2010
Old-fashioned homemade pies have long been one of life's simple pleasures, and now perfect pies are even easier to get our hands on thanks to Forman & Field.
The ideal accompaniment to celebrate the election result, or alternately to drown one's sorrows in consolation, British pork pies are traditional favourites that have never gone out of style thanks to continued innovation and high-quality produce. Online/mail order experts Forman & Field stock handmade traditional pies that are perfect for a cold lunch or starter. Genuine, thoroughbred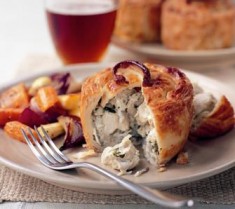 Melton Mowbray pork pies from Mrs King's Pork Pies, for instance, are a real treat with Forman & Field's traditional piccalilli. Forman & Field also stock handmade traditional pies from Norfolk bakery Silent Partners. These delicious pies are made from local, natural ingredients and feature gloriously tasty pork from pure breed Old Spot pigs.
Forman & Field's range of Simple Simon's Pies is another great reason to reminisce about – or try anew – all those delicious pie possibilities. Created from the freshest, natural ingredients on shredded potato encased in flavoursome pastry, these pies come in a wide variety of new and exciting flavour combinations by chef Bernard Alessi. The latest offering, pork and lemon, is inspired by an Italian casserole recipe and features a rich and zesty sauce and meltingly tender organic Lanarkshire pork. The value-for-money Best Sellers Selection Pack contains 1 x Smoked & Fresh Haddock with Creamy Leeks, 1 x Chicken and Tarragon, 1 x Organic Beef & Mushroom.
Forman & Field have also been in the press recently, not because of their simply scrumptious chocolate cheesecake (a mere oversight, surely), but due to developments at the Forman's Fish Island HQ, the closest private building to the future Olympic stadium. The site comprises the working smokehouse and production kitchen, two restaurant spaces that can seat up to 200, together with a large events and party venue with space for 1000. Forman & Field shares premises with its parent company, H. Forman and Son, which was founded in 1905 by Harris Forman, the great-grandfather of present owner Lance Forman. The UK's oldest and best-known salmon smoker, H. Forman & Son is the choice of top chefs and hotels in London and around the world, including the Dorchester, Sandy Lane, Barbados, Fortnum & Mason, and Waitrose.
About Forman & Field:
Launched in 2002, Forman & Field is widely regarded by top food writers as the country's leading supplier of fine food by mail and online order. A pioneer in quality seasonal British foods, the company offers delicacies such as three-bird roast, farmhouse cheese, fine ham and desserts, all available to order by mail and online. This month's specials include Chef's Cawl Cennin (Lamb stew with leeks), New season fresh wild Scottish salmon, Mango and passion fruit set cheesecake and the "Purist's Pick" picnic hamper.