Groking Lab to Exhibit Innovative Ozmo Smart Cup at the 2016 International CES in Las Vegas Jan. 6-9
Industry: Technology
Ozmo Smart Cup & App tracks water and coffee consumption to support people's lifestyles, wearables and health systems, featured in CES Health & Wellness Marketplace.
HONG KONG (PRUnderground) December 16th, 2015
Groking Lab, leading developer of health and wellness smart consumer products, announced today it will be exhibiting its Ozmo Smart Cup at the 2016 International CES in Las Vegas January 6-9.
The Ozmo system is a smart cup and app that tracks one's daily water and coffee drinking, customizes to user's personal profile and activity levels, syncs with data trackers, and alerts users to hydration issues. The easy-to-use Ozmo Smart Cup uses simple prompts to encourage action for meeting one's daily goals for hydration and avoiding excessive caffeine.
Company:        Groking Lab – Ozmo
Booth:            Booth #74436
           Sands, Level 2 Halls A-C
           Health & Wellness Marketplace
Event:            2016 International CES
          Jan 6 – 9, 2016
          Las Vegas, NV, US
Web:                http://www.ozmo.io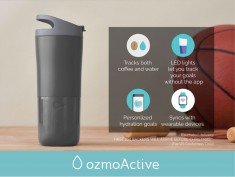 Ozmo CEO Serena Pau said: "We're thrilled to be exhibiting at this world-class event for the latest in tech and consumer electronics. The Ozmo Smart Cup has been at numerous conferences and events across the US and Europe this past fall, to very positive receptions. We look forward to meeting with tech media, analysts and other industry influencers at CES."
The company recently announced a new affiliate program, Ozmo Affiliates, after concluding a successful Kickstarter campaign that exceeded goals for early production. Ozmo.io is also offering an API partnership developer program. For additional information, please visit www.ozmo.io/affiliates
Drinking enough water seems simple enough, but Ozmo's market research shows that most people do not consume the right amount of water for optimal health and well-being. Persistent dehydration contributes to short-term problems (fuzzy thinking, fatigue) as well as long-term health issues (kidney stones, metabolism complications and more). Too much caffeine affects the body in adverse ways, too, and the Ozmo Smart Cup can help track coffee intake and recommend what's right for the individual user.
About CES
The International CES (Consumer Electronics Show) is the world's gathering place for all who thrive on the business of consumer technologies. Held in Las Vegas every year, it has served as the proving ground for innovators and breakthrough technologies for more than 40 years – the global stage where next-generation innovations are introduced to the marketplace.
ABOUT OZMO
Ozmo.io is a division of Groking Lab based in Hong Kong. Groking Lab is the developer of smart apps and wearables systems. Its first product developed is the Ozmo Smart Cup and App that synchronizes or works separately to help people achieve their wellness goals. Designed to record coffee and water consumption, both the cup and app can track progress – enabling one to achieve daily hydration and caffeine goals. Ozmo reminds users to drink before they even get dehydrated. Ozmo also aims to tackle the problem of excessive waste by being a reusable product – more than 35 billion plastic water bottles, along with more than 14 billion paper coffee cups are thrown away every year in the US alone. For more information, contact hello@grokinglab.com, call (425) 350-1445, or visit Ozmo.io.
About Groking Lab Limited
Groking Lab is a tech startup focused on providing people with fun, easy-to-use interactive tools and apps for better living.