Internationally Known Psychic Christina Predicts Guides Others To Embrace a More Spiritual Way of Life
Industry: Entertainment
Boasting An Uncanny Gift, Christina Predicts Helps Others Understand Their Way Of Life
Oradell, NJ (PRUnderground) July 20th, 2010
In these times of economic uncertainty and political turbulence, many would welcome the opportunity to learn what the future holds. With the help of psychic reader Christina Predicts, now they can.
"The recent highlighting of self-awareness by noteworthy figures on television and online is one indicator that people are ready to embrace a more spiritual way of life," says Christina Predicts. "Spirituality is becoming a commonplace practice within daily living and people are seeing the benefit of a more spiritual mindset, the idea of a higher being and a certain pathway that they should follow."
Christina Predicts became aware of her psychic abilities at the tender age of seven.  Since then, she has been using her special gift to touch the lives of those around her with the ability to see the future and share spiritual guidance rooted in the present moment.  Christina Predicts uses today's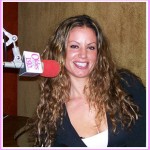 technology, which bears no geographical boundaries to work with clients through phone, email and live radio readings.  Every Tuesday at 9 p.m. EST, Christina Predicts can be found on her live hour-long live radio show at The Mix Talk (www.TheMixTalk.com).
"I have dedicated my life to developing different abilities which make me a vehicle for the Spiritual Realm," she says. "My goal is that through my gift I can help others gain insight into their spiritual lives and assist them in answering the questions that they have."  With this ability and the unlimited reach of the Internet, Christina Predicts has clients around the globe – including a number of high-profile celebrities.
While many clients rely on her psychic readings for guidance in the areas of family, love, money and career, Christina Predicts offers a wide variety of services that include:
Tarot, Chakra, Past life, Palm readings, Feng shui, Astrology, Karmic, Akashic, Medium, Empathic, Healings, Clairvoyant, Hypnosis, Programming the mind, Addiction, Meditations, Animals, Infants, Timelines, and Compatibility.  Christina Predicts also offers therapeutic massage services to local clients in northern New Jersey region.
"My psychic readings are better than traditional counseling, since I can actually see the events that are taking place and that will take place in a person's life, as opposed to sifting through past events," she adds. "The benefit of psychic readings is that you are able to prepare for what is ahead, rather than simply analyze what has occurred."
About Christina Predicts
For over ten years Christina Predicts has been providing psychic and healing services to clients around the globe. Due to her spot-on accuracy during readings, Christina Predicts' clients continue coming back for more.
To learn more about Christina Predicts, or make a reservation for a reading, please visit www.ChristinaPredicts.com.