Leader in Mobile Foods Marketing Launches Apple iPad 2 WiFi Giveaway Drawing
Industry: Electronics
Stitches 'n Dishes, a pioneer in the mobile food services industry, providing California's only network for food vendors, venues, and fans, as well as news, reviews, photography, video and media coverage, announced that it will give away an Apple iPad 2 Wi-Fi tablet in a random drawing on January 1, 2012.
San Francisco, CA (PRUnderground) November 17th, 2011
StitchesnDishes.com, an online platform for mobile food operators and their fans has announced a drawing to give away an Apple iPad 2 Wi-Fi tablet on January 1, 2012.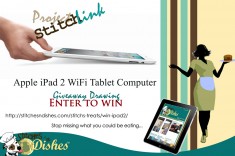 "We're giving away an iPad 2 WiFi in our Project Stitchlink drawing to demonstrate how Stitches 'n Dishes stitches a link between people and the foods that they love. It's our way of not just thanking our loyal readers, but showing them how they can use the iPad to discover great mobile dining experiences, and follow their favorites. The mobile food industry is completely changing the way people dine, and by design, it fits squarely in the fast-paced, information superhighway. And, that's where we can help. We bring mobile foods directly to the consumer with social networking, mobile media, video, internet and traditional advertising, and in print. The iPad 2 Wi-Fi tablet provides a powerful Point-of-Sales and credit card payment processing tool for mobile food operators, as well," said Christopher Ford, co-founder of Stitches 'n Dishes.
To enter the no-purchase-necessary drawing, participants should visit the Stitches 'n Dishes blog. Participants must be 18 years of age or older, and California residents.
About Stitches 'n Dishes:
Stitches 'n Dishes, the creation of Christopher Ford and Andrew Nicora, and inspired by "Stitch", an American Staff. Terrier mix / Bichon Frise, provides marketing, advertising and PR services to the mobile foods industry and it provides consumers with a single source for original articles, reviews, food photography, California fairs and events, discounts, contests and giveaways.
Stitches 'n Dishes is California's first provider of a platform that stitches a link between food lovers, entertainment venues and mobile food operators, and the first fully dedicated marketing, advertising and development resource available to food vendors in California.
Contact
Christopher Ford, Co-Founder
Stitches 'n Dishes
916-612-9954