Metrocosm Lets You See Which NYC Movies Were Filmed on Your Block
Industry: Blog
Metrocosm - a new website that offers a data-centric perspective on urban life - has released an interactive map pinpointing every NYC film location over a 3-year span.
New York, NY (PRUnderground) April 1st, 2015
Metrocosm, which celebrated its public launch yesterday, has compiled and plotted all the movie filming permits issued by the Mayor's Office of Film during the period 2011 to 2013, the last year for which data is available.
The Filmed in NYC map comprises a total of 517 films and 17,241 locations, stretching throughout the five boroughs, displaying the precise locations where movies like The Dark Knight Rises, The Dictator, and The Amazing Spider-Man were filmed.
According to Metrocosm's analysis of the data, the most filmed neighborhood in New York City is Midtown / Times Square, where scenes in Resident Evil: Retribution, Teenage Mutant Ninja Turtles, and Thanks for Sharing were filmed.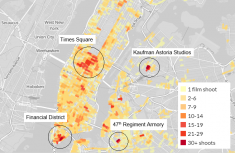 The second neighborhood in the list is Williamsburg, followed by the Financial District, Harlem, and Greenpoint.
Make a stop over at Metrocosm to see what movies where filmed on your block.