PRUnderground mentioned in Epoch Times article '4 Ways Small Businesses Can Cost-Effectively Market Their Business'
Industry: In The News, Social Media Press Release
(PRUnderground) May 16th, 2015
PRUnderground.com was recently mentioned in the April 29, 2015 Epoch Times article '4 Ways Small Businesses Can Cost-Effectively Market Their Business'. The article discusses using social media, webinars, using the help of professionals and developing a tailored marketing plan.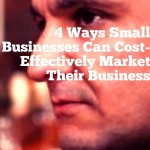 In the article, we specifically mention using well-connected publicists if you are inexperienced with getting PR. Yes a press release on PRUnderground.com can help you quickly and affordably distribute your company news on the web, it will not replace a good publicist from getting you that killer story coverage about your business.
Note, for the PR-savvy you can also reach out to writers and editors yourself as they like to hear directly from company insiders. But it often takes months to years to build relationships with  writers and if you do not know what you are doing, your pitches are likely to be ignored. So a publicist with these relationships can really jump-start your PR efforts.