SmartBuyGlasses brings you the best Halloween costume ideas for your frame shape
Industry: Eyewear
Beside colored lenses for Halloween, SmartBuyGlasses brings you the best tips for dressing up according to your glasses. This guide features top DIY Halloween costumes
Ontario (PRUnderground) October 14th, 2019
Halloween is coming up and it's time to plan your party outfit! If you wear glasses you might want to choose a costume that incorporates your glasses so you don't have to spend a fortune on a completely new costume but instead work around your eyewear. This guide will give you the best costume ideas based on glasses you already own. Most of these are easily put together without having to buy a whole costume but simply piecing together an outfit from your wardrobe.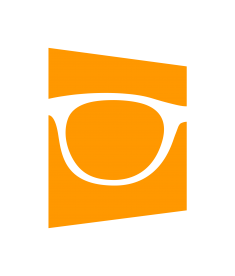 Pilot or Aviator frames- The name says it all. If you're already sporting a pair of pilot frames, dressing up as Maverick from Top Gun is an obvious go to. Aviator shades are also suitable for dressing up in a 70's style (perfect if they have a gradient tint) or why not go as Ryan Gosling in Drive, Bradley Cooper in the Hangover or Napoleon Dynamite? If your aviators have a more square shape you could also dress up as Dwight from The Office or Daniel Craig in James Bond Skyfall.
Round frames – These glasses are timeless and versatile. You could fit into almost any decade. Go as John Lennon or all time classic favorite, Harry Potter. If your frames are on the smaller side why not put on a rolled up beanie and go as Leon The Professional. If your frames, on the other hand, are slightly more oval you could dress in all black and go as Neo from The Matrix. 
Square frames – The more square frames are another classic model that work for a wide variety of styles. If you own a pair of square sunglasses why not try going as Men in Black or the Terminator. Or why not legendary designer Karl Lagerfeld? Square eyeglasses on the other hand could be matched to dress up as Velma in Scooby Doo, Jess in New Girl or Tony Stark in Avengers. 
Wayfarer style frames – These are a ever-popular movie favorite, giving you lots of dress up options. Partner up and dress up as the blues brothers or if you have colored wayfarer frames, as Jonah Hill and Channing Tatum in 21 Jump Street. If you're lazy just go in your underwear and wayfarers and voila – you're Tom Cruise in Risky Business.
Oversize frames – If you're sporting big oversize frames you're already a character but if you want to step out of your own then why not dress up in pink and go as Meg Griffin or all blue and go as Sadness from Inside Out or super stylish Edna from The Incredibles (these do all require quite a haircut though). If cartoon characters aren't your thing then you could also go as Iris Apfel (who wouldn't want to be her, right?) or Barb from Stranger things. 
Cat eye frames – If you have a pair of retro cat eye shaped frames lying around then this is the perfect opportunity for you to use them for something else than a fashion statement. Grab your bestie and go together as Thelma and Louise. Or put on a pearl necklace and own that Halloween party as classic icon Audrey Hepbrun or Marilyn Monroe.
About SmartBuyGlasses
The SmartBuyGlasses Optical Group is a world leading designer eyewear e-retailer, with websites in over 30 countries. The company was an early adopter to the online eyewear market, starting VisionDirect.com.au in 2006, selling prescription eyewear, sunglasses and contact lenses in Australia before expanding globally. Today, SmartBuyGlasses is the one stop shop for all eyewear needs, giving customers the power to shop their style. With over 180 brands and 80,000 products available, customers get their perfect unique look at amazing value. SmartBuyGlasses are the eyewear fashion experts offering big name designers along with the most exciting niche brands.