Story Pirates To Light Up The Stage At The Help Group
Industry: Medical
Geffen Playhouse and The Help Group to Present Story Pirates on Sunday, July 31st
Sherman Oaks, CA (PRUnderground) July 28th, 2011
Geffen Playhouse and The Help Group are pleased to present a unique and exciting theatrical performance by the Story Pirates, the nationally acclaimed performing arts and creative writing organization. The show will take place Sunday, July 31 at 1:00pm at The Help Group Autism Center Theater, in Sherman Oaks, CA. Fun for kids and the whole family, the show is free and open to the public.
These pirates won't make you walk the plank, but they will steal your kids' stories and use them in an hour of comedy that promotes creative writing and imagination. The stories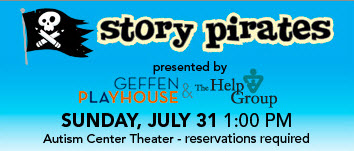 are entirely written by kids and brought to life by professional comedians, actors and musicians. According to Benjamin Salka, Executive Director of Story Pirates, "Our program is designed to spark the imaginations of young people, and to show them that their ideas and their voices matter."
In addition to "Greatest Hits" stories created by kids from around the country, and  stories improvised on the spot with suggestions from young people in the audience, the show will feature two stories written by students from The Help Group's Village Glen and Bridgeport elementary school programs serving children with autism spectrum disorders.
Geffen Playhouse and The Help Group invite you to take part in this unforgettable afternoon in celebration of the creative potential of all children and the magic of the performing arts.
 Reservations are required – Please call 818-779-5212.
ABOUT THE HELP GROUP
Founded in 1975, The Help Group is dedicated to helping young people with autism and other special needs fully realize their potential. It is the largest, most comprehensive nonprofit of its kind in the United States and is recognized as a leader in the field of autism. The Help Group offers a wide range of innovative autism spectrum disorders programs, and each day, 950 students ages 3 – 22 attend its autism day schools.
ABOUT GEFFEN PLAYHOUSE'S STORY PIRATES PROGRAM
The Geffen Playhouse began its Story Pirates partnership in 2009 as a way to expand the resources of the theater's current in-school initiatives.  As a partner of the Geffen Playhouse, Story Pirates, a nationally recognized arts and literacy program based in NY, recently opened a West Coast branch this and now visits over 20 Title I Los Angeles public schools each year in addition to performing for the general public as part of the Geffen Playhouse's Saturday Scene program.