FlipHTML5 Explores the Best 3d Brochure Maker Software for Marketers
Industry: Technology
To wow the customers, FlipHTML5 3d brochure maker software enables users to automatically convert PDF to 3d page turning brochure.
HongKong, China (PRUnderground) August 11th, 2016
Go for 3d brochure maker and get the best results, FlipHTML5 digital brochure maker provides the users with various publishing formats that can attract the target visitors. This software will make the digital brochure stand out from the crowd. The new trend for the digital publishing is to publish the publications with 3D page turning effect. In order to create the stunning 3D page turning brochures, FlipHTML5 is developed with multiple designing resources.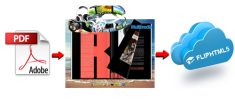 This software will work with good folks and they can provide a greater solution. They are not realtors or brokers, so there are no extra fees that get charged for dealing with them.
FlipHTML5 is the HTML5 3d brochure maker software which can convert static PDF to page flipping magazines, catalogs, brochures and more. It can help to manage the content in a realistic book-like interface. What's more, it enables readers to share the brochures via social networks and emails.
For those who do not own a website, FlipHTML5 is of greatly help. This is because they can publish the awesome brochures on FlipHTML5 cloud platform. It provides online bookcase for digital brochure storage and showcase. Users can also embed the bookcase and digital brochure on store or blog. It will drive traffic and boost their sales.
FlipHTML5 makes efforts to match their clients' needs. It allows them to create the 3d interactive brochures with rich media, such as videos, audio, flash and hyperlink. Also, FlipHTML5 is mobile friendly software that offers the comfortable mobile reading experience to the mobile customers.
For more about FlipHTML5, please visit: http://fliphtml5.com.
About FlipHTML5
FlipHTML5 Software Co. Ltd. is a world leading provider of digital publishing software. For many years, They have focused on the research and development of outstanding range of e-publishing software for users around the world. Furthermore, they offer customized solutions for publishers in different industries.