FlipHTML5 Released Flipbook Software v5.9.1 with Impressive Updates
Industry: Technology
New enhancements have been added to the flipbook software for publishers to create outstanding publications easier.
Hong Kong, China (PRUnderground) April 1st, 2016
Popular online catalog maker FlipHTML5 has announced the launch of latest version of the flipbook software with great enhancements and added features. The digital publishing platform has upgraded its popular flipbook software which will now provide better user experience and better results.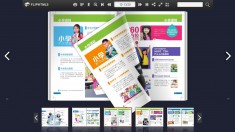 The new flipbook software v5.9.1 will feature sound and video options that can be played flawlessly on mobile devices. The makers have also enhanced the link function of the page editor and also improved the search function. The users will also be able to slide easily with the optimized slide mode of the mobile version of flipbook software. The developers have also fixed the minor bugs existing in the previous version.
The flipbook software by FlipHTML5 provides the user a convenient and free of cost method to create digital publications such as product catalogs, magazines, yearbooks and other flipbooks that can also be shared easily over e-mail and social media. With an increasing number of users over the internet and mobile users, the marketers are tapping this opportunity of targeting larger number if potential customers using digital catalogs.
FlipHTML5 offers a free platform for the businesses to create attractive and engaging flipbooks using a few simple steps. The users can import any PDF to start creating a flipbook and also add dynamic media such as images, animations, videos and sound files to make the content more attractive.
The pre-loaded template and formats allow the user to make their flipbook look more interesting and eye-catching. Using the FlipHTML5 cloud platform, the flipbook software delivers secure and high-quality user experience on any device. The cloud platform allows the flip book to reach both globally and locally.
The subscription option provided in the flipbook software will allow the user to connect to their readers and give them a chance to subscribe them to the new updates and other information. The analytics will also give an insight into total views on the publication and its reach to the audience. More information about the flipbook software can be found at http://fliphtml5.com/features.
About FlipHTML5
FlipHTML5 Software Co. Ltd. is a world leading provider of digital publishing software. For many years, They have focused on the research and development of outstanding range of e-publishing software for users around the world. Furthermore, they offer customized solutions for publishers in different industries.