Bad Credit? Need a Car? DriveHere.com
Industry: Automotive
Drivehere.com. A car enterprise that caters to great people with less than perfect credit.
Philadelphia, Pennsylvania (PRUnderground) April 2nd, 2015
The Amazing Services offered by DriveHere.com. At Drivehere.com, a car enterprise that caters to great people with less than perfect credit, they  truly believe that driving a car should be a right that everyone should have, regardless of their credit history.
In an economic environment surrounded by  layoffs and low wages, most companies are less inclined to work with consumers with credit issues. However,  companies like DriveHere.com are able to help consumers drive by offering a well rounded solution.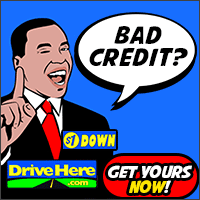 Since day one DriveHere.com has been working with a passion to make it easy to get into a vehicle; maintaining a great relationship with all their valued customers, offering low weekly payments that start as low as 79 dollars per week, with 18 months or 18,000 Engine and Transmission Warranty in their leased cars.
To join the program that is being offered by DriveHere.com, consumers need to take one simple step; bringing one dollar down for their due at signing. Fill out their easy application –DriveHere.com, has a 100% application acceptance policy– copy of proof of income and their driver's license.
DriveHere.com will show their valued clients a huge number of vehicles that they can opt from. One of the great benefits with the DriveHere.com program is that drivers don't need to wait for weeks or days, within hours they are back on the road again.
DriveHere.com is committed to deliver great and excellent customer service during the process. They will also give their clients a great opportunity to drive their dream car regardless of their bad credit history.
To learn more, please visit DriveHere.com. For inquiries, please contact them at 215-600-2463
About Drivehere.com
We provide our customers with the combination of quality vehicles, affordable payment plan, and expert servicing after the transaction. That's why our customers give us high customer satisfaction ratings.
Our customers are hard-working men and women, and young people just starting out. They usually need a car for work. Many of them have a credit challenge—which is not surprising, since nearly 45 percent of Americans don't qualify for automobile financing at conventional financial institutions.
Using the Drivehere.com Leasing Program, we are as accommodating as possible. We want our customers to get back on the road to maximizing their opportunity for advancement. Our goal is simple: Exceed the customer's expectations, because our success is in their hands.
Here's something we do that is not expected in the market: We trust our customers. We treat him or her with dignity and respect. We thoroughly explain the terms of the lease. We put out the facts, and then we let the customer decide. And we also think our customers deserve better than some ramshackle, fly-by-night used car lot down the street or across town. We offer them a modern, professional, and sophisticated environment. We know what acquiring a used car can be like, particularly for people accustomed to being undeserved. We don't want anxiety. We don't want distrust. And we don't want failure in our relationship. We want satisfied customers.