Best Bracket Contest at Bryan Honda Offers Huge March Madness Give Away
Industry: Automotive
Winner will receive their choice of $40,000 or two brand new Honda vehicles
Fayetteville, NC (PRUnderground) March 16th, 2018
Bryan Honda in Fayetteville is giving a brand new meaning to March Madness with the announcement of their latest – and biggest – giveaway.
The Best Bracket Contest is now officially underway, and the exciting new contest is giving entrants the opportunity to win their choice of $40,000 in cash or two brand new 2018 Honda vehicles.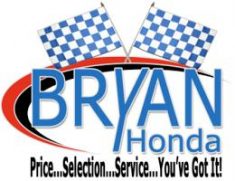 According to the team at Bryan Honda, this is their biggest giveaway yet. So far, the Fayetteville Honda dealership has given away more than $30,000 in free car payments and a Honda Fit through previous incentives and giveaways. With the Best Bracket Contest, entrants get to have a taste of March Madness that could leave them with cold hard cash or two brand new vehicles.
The contest is open for entry beginning March 15, 2018, and the entry period is slated to end on March 23, 2018. Starting on March 15, 2018, anyone who takes a test drive in any new or pre-owned vehicle at Bryan Honda is eligible to enter.
The Best Bracket Contest will go into full swing when the 2018 NCAA Division I Men's Basketball Tournament Sweet 16 team matchups are announced on March 20, 2018. When the NCAA tournament is live, contestants will submit their predictions of the Elite 8 teams, the Final 4 teams, championship matchup, the final score of the championship game, and the championship team of the NCAA tournament. These entries will be accepted up until March 23, 2018.
There's no purchase necessary, and to enter, all entrants should do is schedule a 15 minute test drive to try out a Honda pre-owned or new vehicle. To schedule, entrants can contact Bryan Honda by calling, stopping by the dealership, or visiting www.MarchMadnessTwoCarGiveaway.com.
"For March Madness fans, the chance to win two new Hondas or a lump sum of cash sweetens the pot," said Tim Roussell, aka "Mr. Big Volume", Bryan Honda General Manager.
According to Roussell, the Best Bracket Contest is an unprecedented giveaway.
Bryan Honda invites anyone interested in a new or pre-owned Honda for a test drive. The dealership, which is the oldest Honda dealership in North Carolina, offers a number of incentives, promotions, and financing options to help drivers get into the vehicle they want. More information is available at https://www.bryanhondafayetteville.com/.
About Bryan Honda
Bryan Honda is located in Fayetteville, North Carolina, and proudly serves the surrounding area with a strong commitment to customer service in every aspect of the car buying process. Bryan Honda offers a wide selection of vehicles and a knowledgeable team who strive to deliver a seamless, hassle-free experience to everyone who walks onto the lot.