Billboard Recording Artist Nyee Moses Joins Mobile Food Pioneer as Vegan Correspondent
Industry: Food and Drink
Stitches 'n Dishes, a pioneer in mobile foods, announced Billboard Recording Artist, Nyee Moses will join the blog as Mobile Vegan / Vegetarian Food Correspondent.
San Francisco, CA (PRUnderground) February 2nd, 2012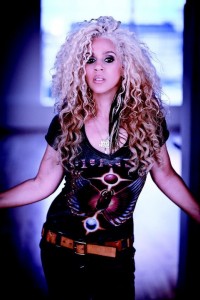 Christopher Ford, Co-Founder of Stitches 'n Dishes, a pioneer in mobile food Social Media Marketing announced today that it has begun collaboration with Billboard Recording Artist, Nyee Moses to record vegan and vegetarian-focused webisodes for distribution on its Youtube channel, SND TV. The series will be recorded in Los Angeles, CA, and intends to increase Stitches 'n Dishes presence in vegetarian and vegan communities, while raising awareness of the vegetarian lifestyle in an entertaining format.
Nearly 10 percent of the adult U.S. population largely follows a vegetarian-inclined diet, and 7.3 million are vegetarian, according to Vegetarian Times Magazine.
"I am very excited to be working with Stitches 'n Dishes," said Moses. "As an advocate of conscious living, I will have most fun bringing 'what's hot on the street' in vegetarian and vegan food to SND TV viewers. When you want a quick veggie bite on the go, there are trucks out there just for you, and I'll show you how to find them."
Moses has followed a vegetarian diet for 15 years, and is a powerful force in health advocacy and conscious living. Her debut CD, "Between Us" hit the airwaves in 2008, soaring to the Top Ten on the Billboard Charts and stayed there for 28 solid weeks, before making it to Billboard's "30 Best Songs of 2008."
Chris Ford, Co-Founder of Stitches 'n Dishes said, "We're absolutely thrilled to have the opportunity to collaborate with Nyee. Her fun personality and knowledge in vegan and vegetarian street food options will bring our readers and viewers a wealth of information and entertainment. With Nyee's help, we'll provide a valuable resource to food truck and food stand fans who are looking for vegan and vegetarian options."
Andrew Nicora, Co-Founder of Stitches 'n Dishes and Director at SND TV intends to wow viewers with a new line-up of videos and a unique spin on mobile foods. His current series, featuring a "day in the life" adventure of a food truck will air in April, 2012. "I'm very excited to bring vegan into the mix on SND TV," he said. "I know that a large subset of our readers and viewers are hungry for vegan content, and we're going to bring them something they're not necessarily expecting. Nyee brings a sultry and earthy character to the series, and compliments our concept very well. I'm looking forward to working with her."
Nicora recently directed "The Drive Thru," a one-minute commercial, featuring the Wicked 'Wich truck in Sacramento, CA for SND TV.
Recording of the video series, featuring Moses as she "brings the real deal" to Stitches 'n Dishes, SND TV viewers will begin this week.
About Stitches 'n Dishes:
Stitches 'n Dishes, the creation of Christopher Ford and Andrew Nicora, and inspired by "Stitch", an American Staff. Terrier mix / Bichon Frise, provides marketing, advertising and PR services to the mobile foods industry and it provides consumers with a single source for original articles, reviews, food photography, California fairs and events, discounts, contests and giveaways.
Stitches 'n Dishes is California's first provider of a platform that stitches a link between food lovers, entertainment venues and mobile food operators, and the first fully dedicated marketing, advertising and development resource available to mobile food vendors in California.
Contact
Christopher Ford, Co-Founder
Stitches 'n Dishes
916-612-9954
About Nyee Moses
When Nyee Moses " Between Us " hit the airwaves in 2008, staying on the Billboard chart for 28 weeks, breaking Billboard top 10 and finally making it to "30 best songs of 2008,"it was no wonder that both she and her new fans were a bit shocked, but delightfully so! "It is hard enough to get airplay even if you're an established artist, but to have radio embrace an unknown artist is just magic!" And magic seems to be exactly what Nyee's debut CD is all about.
"Her music has that dreamy sheen of acoustic guitars and percussion dipped in spacey synths, gurgling electric guitars and fondue deep bass. Her lyrics and voice drip with the sensual evocative ache of one who worships at the altar of Sade." –Lisa Coleman, Urban Network
Contact:
info@nyeemoses.com