Book Edinburgh Hotels For These Top October And November Events
Industry: Travel
If you are thinking of heading to Edinburgh in October or November, then look at the wonderful range of Edinburgh hotels Hotel Direct can offer; covering all the attractions and events happening in the near future
Edinburgh, Scotland (PRUnderground) October 19th, 2011
If you are thinking of heading to Edinburgh in October or November, then look at the wonderful range of Edinburgh hotels Hotel Direct can offer; covering all the attractions and events happening in the near future.
Edinburgh is home to great landmarks and attractions like Edinburgh castle and Edinburgh Zoo, but there are also many seasonal and one off events that make the city such an exciting place to visit. If you are looking for something spooky to do around the Halloween period, then the City of Dead tours will take you around a haunted graveyard and an underground tour. If you fancy seeing Edinburgh from a great vantage point, then visiting the 'Camera Obscura and the World of Illusion' will offer you some unique ways to see this expansive city in all its glory.
If you are visiting with children, then 'Our Dynamic Earth' is a great place to visit, allowing kids to learn about our earth and space through a series of fun and interactive ways inc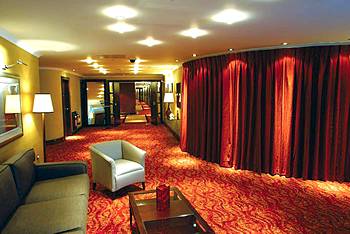 luding a movie narrated by David Tennant.
Edinburgh is a great city to visit if you enjoy live music, with some exciting talent performing in the coming months. The Horrors bring their unique style to The Liquid Rooms on October 19th, Bon Iver perform at the Usher Hall October 22nd and Jessie J rocking the Usher Hall on October 25th. Noel Gallagher's High Flying Birds perform again at the Usher Hall October 27th, Charlie Simpson hitting The Garage on October 23rd, James Morrison slowing things down a bit at the HMV Picture House November 4th; and finally we have the boy band all grown up, Hanson performing at the HMV Picture House on November 25th.
With many comedians attending the Edinburgh Fringe Festival every year, comedy and Edinburgh seem to go hand in hand. Dave Gorman brings his Powerpoint Presentation to the Festival theatre on October 23rd, Micky Flanagan taking his stand up to the Festival Theatre on October 27th, Rob Brydon at Traverse Theatre October 31st, Lee Nelson at the Festival theatre November 6th, Bill Bailey at Playhouse on November 16th and numerous Foster's Comedy Live nights at the highlight, just to name a few.
If any of these events or attractions sound like something you would want to attend or visit, then Hotel Direct have the perfect range of hotels in Edinburgh. From cheap hotels to Luxury hotels in Edinburgh, Hotel Direct have a great discounted room for you. Take a look at the full range at www.hoteldirect.co.uk/edinburgh.
About HotelDirect.co.uk:
HotelDirect.co.uk is designed to help you find the best hotel deals in any city simply and quickly. You may be looking for a type of hotel like 5 star hotels, Cheap or convenient Hotels near to attractions or airports. Or perhaps one of our London Theatre breaks is just the ticket (plus a hotel of course!)
Every hotel is discounted. Our Special Offers present hotels with extra discounts and Hidden GemsTM is a fun way of offering you the greatest hotel savings – in this case secretly!
You'll receive the same hotel savings whether you book online or talk to one of our Expert Advisors, 7 days a week free on: 0800 633 8000 (+44 1872 261 100). Call us now to go direct to the best hotel prices.