Breakthrough Speech Language Therapy App Receives Tabby Award Nomination
Industry: Mobile Apps
A new and innovative approach to learning your sounds! Now available in the App Store.
New York, United States (PRUnderground) May 19th, 2015
Junganew: A Herd of Sounds for "S"® is the first in a series of groundbreaking story based speech and language therapy adventure apps that creates an experience for children to learn their sounds. The Tabby Award nomination represents the second for this young brand as they recently won the Best Mobile App Award earlier this year.
With original musical strategies, handpainted watercolor animation, engaging child-voiced characters, 5 interactive Mirror Models™, and 8 games in this rich story based adventure, Junganew takes full advantage of all of the latest technological advances for iPad. This cutting edge app utilizes the microphone on the iPad as a tool to improve children's speech skills by prompting them to blow on the screen guiding the School "Balloon" through the Land of Junganew. Best of all, children can use the original interactive Mirror Models™ which allow them to listen to the character's sound production on one side of the screen, and mirror that sound production by viewing a real time video recording of themselves on the other side of the screen. This prepares children to communicate like never before.
"I really wanted to create an opportunity for all children to experience their sounds in an interactive, playful, and meaningful manner" said Esther Giordano, MA, CCC-SLP,  Creator of Junganew. "As a therapist with twenty years of experience, and with our incredible team, we've created a new way for children to explore their sounds. Junganew a Herd of Sounds for "S" is an engaging, fun, and lasting experience that can be played over and over again."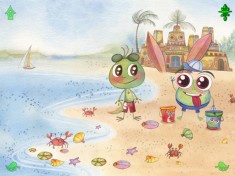 Children will enjoy collecting seashells, playing hide and seek, dressing up, and popping balloons all while learning Miss Snake's favorite sound. They will also enjoy baking cookies, and singing along with Junganew's favorite band, "The Vocal Chords." Parents will appreciate the beauty of the app, the educational component, and the fun children will have during homework practice.
"Play connects all of us. Junganew helps connect our kids, and connect the dots. We love that we can provide this foundation that kids can use to move forward as better speakers, and functional communicators in a social environment." says Giordano. "We are honored to receive a nomination as prestigious as the Tabby Awards. It validates the years worth of work."
App Availability and Pricing
Junganew: A Herd of Sounds for "S" is now available for iPad in the App Store for $4.99. It is primarily intended for children ages 4+. Sounds for "TH", "R", and "L" will be available soon.
About Junganew
Junganew, LLC was founded in 2012 to develop the most innovative engaging apps to create an experience for all children to learn their sounds in a language immersive, socially relevant environment. Junganew: A Herd of Sounds for "S" is the first in a series of sound acquisition apps that will include over 40 sounds in the English language.
About Junganew, LLC
Junganew, a land where sounds are represented by characters and their habitats, is the first educational series where sounds are truly the stars of the show! Come along for an adventure into a beautiful, vibrant world of sounds with the lovable, audible Herd of Sounds – animals whose names represent a unique sound of the English language! Junganew is a strategy based program designed as a series of apps. These apps are intended primarily for the use of children 4+.