Bryan Honda Announces Entry in Car Dogs Contest
Industry: Automotive
If the dealership wins, they'll donate the $4,000 prize to St. Jude Children's Research Hospital
FAYETTEVILLE, NORTH CAROLINA (PRUnderground) March 22nd, 2017
The team at Bryan Honda is thrilled to announce that they have posted an entry in the Ultimate Car Dog Contest.
Car Dogs is an upcoming film about a team of salespeople who do everything they can to sell more cars than ever in a day. The film is coming to theaters on March 24, 2017, and features Patrick J. Adams, George Lopez, and Nia Vardalos.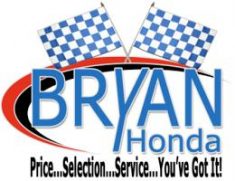 Ahead of the movie's debut, the Ultimate Car Dog Contest offers a fun way for entrants to vie for $4,000. Entrants participate by submitting a video showing what they're willing to do to win a car, and the person with the most votes wins.
The team at Bryan Honda wants to show people that not all salespeople are bad. Rico Glover, Chief Digital Officer at the dealership, has submitted a video that starts with, "I'm not a thief, I'm not a bad person, I'm not out to get you. I'm a professional salesperson."
According to Bryan Honda General Manager Tim Roussell, if the dealership's video wins, they will donate the entire $4,000 prize to St. Jude Children's Research Hospital. In addition, every vehicle purchased from March 20-March 31, 2017, will add to the donation.
Bryan Honda is known for being an "out-of-the-box" dealership. From holding Craigslist car sales that shattered 70 year records to breaking the World Record for a toy drive, the dealership has continuously proven their dedication to community and customer care.
"I'm the board member of a few automotive professional organizations and groups, and the one thing I know is that most people think car salespeople are liars and thieves," said Glover. "However, I've worked with a lot of family oriented, good people in the industry. I know the movie is a comedy and will make people laugh, but I also hope the movie shows real people not trying to hurt others."
Bryan Honda is a family owned dealership that works tirelessly to win the trust of each and every customer. The team is thrilled to vie for the chance to make a substantial donation to St. Jude's. The contest can be followed at #CARDOGSCONTEST.
Voting ends March 31, 2017. Bryan Honda's video can be seen at www.CarDogsForKids.com. Further details about the dealership are available at https://bryanhonda.com/.
About Bryan Honda
Bryan Honda is located in Fayetteville, North Carolina, and proudly serves the surrounding area with a strong commitment to customer service in every aspect of the car buying process. Bryan Honda offers a wide selection of vehicles and a knowledgeable team who strive to deliver a seamless, hassle-free experience to everyone who walks onto the lot.