Cedar Point Sports Center Hires General Manager
Industry: Sports
Youth and amateur sports facility attracts industry leader.
Sandusky, OH (PRUnderground) April 8th, 2019
The Sports Facilities Management (SFM) has chosen Steve St. John as general manager for the new Cedar Point Sports Center, Ohio's premier indoor sports and entertainment facility, scheduled to open in December 2019.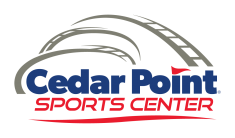 "Steve's track record is marked by success in building and leading teams focused on service and excellence.  He is a great fit for Cedar Point Sports Center," SFM COO Dave Pritchett said. "Cedar Point has a rich history of creating family fun memories as 'The Roller Coaster Capital of the World', and Steve is the right person to expand that culture into the sports center and sports tourism industry."
Originally from Flint, Michigan St. John brings over 20 years of experience in the sports and entertainment industries. St. John has held leadership positions with venues such as the Compuware Sports Arena, Eastern Kentucky Expo Center, Ford Idaho Center, and most recently, at the 1st Summit Arena at Cambria County War Memorial in Johnstown, PA. In addition, St. John has been a community leaders and contributor, having served as a member of various Chambers of Commerce, Rotary Clubs, and multiple city and county boards.
"The talent search and hiring process for employees at SFM is extremely selective. We take the General Manager position very seriously," says VP of SFM Venues, Jack Adams. "Our General Managers are the very best in the industry and are core to the make up of the rest of our facility teams. We hire General Managers who serve as leader and mentor as well as a capable operator. Because of St. John's focus on team development and guest experience, both the SFM and the Cedar Point teams are confident in his ability to make Cedar Point Sports Center a premiere venue in the Midwest."
About Cedar Point Sports Center
Opening in December 2019, Cedar Point Sports Center will be the Midwest's ultimate sports, events and entertainment destination. Located in Sandusky, Ohio along the scenic North Coast and Lake Erie, this state-of-the-art facility pairs incredible events with the world's best amusement park destinations, Cedar Point. With 145,000 square feet, there's more than enough room to host world-class sports tournaments, community events, and parties.