Chris Marion Brings "Falcons in Focus" as Part of New Springfield Art Exhibit
Industry: Photography
The sports photographer is one of seven area artists being featured in the city's new vacant storefront project.
Springfield, Massachusetts (PRUnderground) June 2nd, 2015
When local sports photographer Chris Marion applied to have his photography included in a new downtown art exhibit, he knew exactly what the theme of his display would be:  The Springfield Falcons.  "The Falcons are such a big part of the fabric of the city," he said.  "I thought it would be perfect to feature them downtown, right next to the Mass Mutual Center where the games are played."
Marion is one of seven local artists being featured in the new exhibit, which is popping up in vacant storefronts throughout the downtown area this week.  He was the only photographer selected for the project, which also includes work by sculptors, painters and other fine artists.  "Sports photography is not traditionally considered an art form, so the fact that I was chosen was really wonderful," he said.  "I'm sincerely honored to have my work included with such a wide variety of excellent artists.  Promoting photography, and especially sports photography, as an art form is important to me."
Also exciting for Marion, is the opportunity to show off his hometown pride.  "I grew up in Springfield and am excited to be a part of something like this.  I love this city."
Marion became the team photographer for the Falcons in December and has since photographed almost all of their home games.  All of the work in his Market Street display are previously unpublished shots from that role. "Each of the photos was hand selected to highlight the intensity and determination of the game," he said.
"This is the first time the Cultural District has sponsored a vacant storefront exhibit in the city," said Morgan Drewniany, Assistant Director of the Business Improvement District. "Storefront art programs such as ours are proven to help remove barriers to bringing people downtown. I have strong hopes that these installations will not only make visitors feel more welcome, but help spark a conversation about art in Springfield."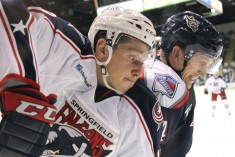 According to Drewniany, all of the artwork will remain on display until the end of September.  For information on where to find each of the storefront displays, or for details on purchasing the images, go to the Cultural District website at http://springfielddowntown.com/cultural-district/.
Additional photos of the display are available upon request.
About Chris Marion Photography
Chris Marion is a freelance photographer based in Springfield, Massachusetts. As a sports photographer, he has shot for the NBA and Sports Illustrated. His work can be found at ChrisMarion.com.