College Basketball Tournament Inspires "Vasectomy Madness" at Obsidian Men's Health
Industry: Medical
Obsidian Men's Health offers "Vasectomy Thursdays and Fridays" during March Madness, with a special discount while North Carolina and local teams remain in the running.
McLean, Virginia (PRUnderground) February 27th, 2015
March Madness is upon us! And while men's thoughts naturally turn this time of year to basketball, brackets and beer, Obsidian Men's Health urges them to add, yes, a vasectomy to that list. Urologists Shane Geib, M.D. and Marc Richman, M.D. maintain that there's no better excuse for lounging around watching hoops than recovering from a vasectomy.
To align men's couch time with game time, Obsidian is blocking out every Thursday and Friday during the four-week tournament for "Vasectomy Madness." Throughout, Obsidian will focus solely on performing its Painless Vasectomy procedure and treating clients to the Obsidian Experience — an unequaled mix of expert health care in a spa-like setting designed specifically for men.
"We're thrilled that March Madness helps remind men about this simple procedure that provides permanent birth control, as well as peace of mind for men and their partners," said Dr. Richman, who's a passionate fan of perennial tourney contenders the University of North Carolina Tar Heels. "This is a great way to make sure we can accommodate our clients' desire to have the procedure before game time and have a little fun as well." (All games will be broadcast on large flat-screen TVs throughout Obsidian's facility, including men's private recovery rooms; drinks and snacks will be provided as well.)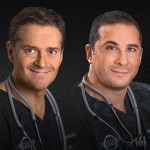 Interested clients should contact Obsidian as soon as possible; tournament slots are filling up. Initial consultations are free, enabling men and their partner to meet with Obsidian's doctors ahead of time with no obligation. An added bonus in the spirit of the season: Any man whose vasectomy occurs while local teams the University of Virginia or the University of Maryland — or Dr. Richman favorite UNC, naturally — are still alive in the tournament gets $250 off his procedure.
Shane Geib, M.D. and Marc Richman, M.D. are urologists board-certified by the American Board of Urology and have each performed the no-needle, no-scalpel vasectomy more than 3,000 times with great success. To learn more about Obsidian's signature Painless Vasectomy, visit ObsidianMensHealth.com or visit our YouTube channel to learn more about this most effective form of birth control.
About Obsidian Men's Health
Obsidian Men's Health is a new kind of practice — one dedicated solely to men's sexual health, in an environment designed with luxury, privacy and unfettered physician access in mind. Shane Geib, M.D. and Marc Richman, M.D. have more than 30 years of combined experience helping men and their partners achieve and maintain a healthy sex life. They founded Obsidian in Tysons Corner, Virginia, to provide men with a place to attain sexual and overall wellness in a relaxed, secure setting.