Coqui Paperie & Gifts to Hold Grand Opening at New Stonewood Village Location in Brookfield
Industry: Gifts
Local stationery and gift store outgrows current location, expands products and services
Brookfield, WI (PRUnderground) August 18th, 2015
After 10 years of serving customers throughout southeastern Wisconsin, Coqui Paperie & Gifts is moving to a new location at Stonewood Village in Brookfield.
The family-owned boutique will now be located in the courtyard of the shopping center, which is near the intersection of W. Capitol Drive and N. Calhoun Road. The new location will offer expanded products and services from the local business, formerly known as Coqui Design. Now customers will have access to a comprehensive stationery and gift store, along with a full-service invitation and stationery studio.
Coqui Paperie & Gifts will hold a grand opening event the weekend of August 21, offering 10 percent off retail items to all customers in celebration of its decade in business.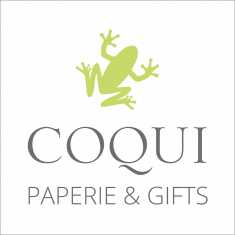 "We are thrilled to host both new and previous customers to our grand opening celebration," said Denise Merkel, co-owner of Coqui Paperie & Gifts. "This is such an exciting time for our business, as we are finally able to open the boutique we have been dreaming of and planning for several years. This is a great opportunity for us to thank the Brookfield community for being such a great place to live, work and do business."
Merkel and her daughter, Elizabeth Webber, have owned Coqui Paperie & Gifts since 2005. The boutique offers a broad range of unique greeting cards, custom invitations and stationery for weddings, parties and a wide variety of other important events. It remains the only high-end stationery boutique in the west Milwaukee suburbs and Lake Country area, and now will provide a much greater selection of products than ever before.
Merkel and Webber first moved their business to the Stonewood Village location in 2012, and its rapid growth and expansion has led to a need for a bigger space within the same shopping center.
"Over the years, we have seen our small studio grow into a full-scale retail boutique, and this relocation is a great step forward for us," said Webber. "We look forward to what the future holds as we continue to do business in this wonderful community."
Coqui Paperie & Gifts' grand opening celebrations will take place Friday, Aug. 21 from 4:30 to 8 p.m., Saturday, Aug. 22 from 10 a.m. to 5 p.m. and Sunday, Aug. 23 from 12 to 4 p.m. The store is located at 17700 W. Capitol Dr. in Brookfield. To learn more about the boutique and the wide range of products and services it offers, visit https://www.shopcoqui.com.
About Coqui Paperie & Gifts
Coqui Paperie & Gifts is a family-owned paper & gift boutique featuring unique greeting cards, personalized gifts, stationery and a full-service custom wedding and event invitation studio. The store offers custom designs and has a selection of designer albums, including Haute Papier, Kleinfeld Paper, Checkerboard, Umi by Elum and others. It also provides DIY supplies, Envelopments® Pocket Folds® and a wide range of other products and services.