Cybersecurity firm 24By7Security presents incident response workshop
Industry: Consulting
March 10, 2017: Sanjay Deo, President of 24By7Security, Inc., led a very well received incident response workshop at South Florida ISSA biennial conference.
Fort Lauderdale, FL (PRUnderground) March 11th, 2017
Incident response is a vital, but sometimes underrated part of Cybersecurity these days.   It was therefore timely that Sanjay Deo, President of 24By7Security, Inc. a well-known Cybersecurity firm conducted an incident response workshop at the biennial conference hosted by South Florida Information Systems Security Association (ISSA) at the Signature Grand in Fort Lauderdale on March 19, 2017.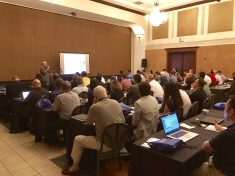 Sanjay Deo and Michael Brown of 24By7Security presented this engaging workshop dealing with the various aspects of incident response.   While Deo, who also runs the CISO forum in South Florida, introduced the subject and went through the overall process, Brown, who is Vice President of the SF ISSA chapter, delved into specifics of incident response and its testing.   With the belief that it is not a matter of "if" a cyber incident occurs but "when", this incident response workshop came at an opportune moment.  Audience participation was spirited and there were several questions on compliance matters and especially in how compliance affects the need and methods of incident response planning and notification in the event of a breach.
The overall event was well organized by the South Florida chapter of ISSA with several sponsors and attendees.    Look out for more events in future.    Such events are vital to promote cyber security awareness and keep security top of the mind for businesses and individuals.
For media inquiries regarding 24By7Security, Inc. or to request presentations, workshops or webinars,  individuals are encouraged to contact the company via email at contact@24By7Security.com or via Twitter @24By7Security.  To learn more about the company, visit www.24By7Security.com.
About 24By7Security, Inc.
24By7Security provides a robust menu of cybersecurity and compliance advisory services in a variety of industries, both regulated and non-regulated, including healthcare, financial services, education, and others. Promulgating applicable industry standards such as the NIST Cybersecurity Framework, PCI-DSS, ISO 27001, NIST 800-53, NIST 800-171, and CMMC, the firm's experienced and highly credentialed staff include CMMC Registered Practitioners (RP), PCI Qualified Security Assessors (QSA) , Certified CSF Practitioners, Certified Information Security Systems Professionals (CISSP), Healthcare Information Security and Privacy Practitioners (HCISPP), Certified Information Security Managers (CISM), Certified Information Systems Auditors (CISA), Certified Ethical Hackers (CEH), and others. The award-winning firm is certified as a Registered Provider Organization (RPO) by the CMMC Accreditation Body, as a Qualified Security Assessor (QSA) by the Payment Card Industry Security Standards Council and as a HITRUST Authorized Readiness Licensee. To learn more, visit https://www.24By7Security.com.
#DontRiskITSecureIT