Don't Risk IT, SECURE IT® is now a registered trademark!
Industry: Consulting
USPTO approves and registers a new trademark Don't Risk IT, SECURE IT® for 24By7Security, Inc. It's now a hashtag #DontRiskITSecureIT and a trademark!
Coral Springs, Florida (PRUnderground) September 20th, 2018
We at 24By7Security, Inc. are pleased to announce that our tag line Don't Risk IT, SECURE IT® is now a registered trademark approved by the United States Patent and Trademark Office!  24By7Security is a well-known Cybersecurity and Compliance advisory and consulting services firm that works closely with Risk Managers, Chief Information Security Officers, Chief Information Officers and Compliance Officers of companies.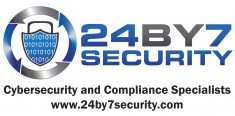 "This trademark Don't Risk IT, SECURE IT® embodies our mission and principles and is really the foundation of our advice to our clients", said Rema Deo, Managing Director and CEO of 24By7Security, Inc.
"One of our key values is integrity where we pride ourselves on exercising good judgment and being a trusted advisor to our clients, always delivering value. This trademark relays that message to our audience", added Sanjay Deo, President and Founder of 24By7Security, Inc.
24By7Security has also pioneered a hashtag #DontRiskITSecureIT on social media channels including Twitter, Instagram, LinkedIn and Facebook.  We encourage everyone to post interesting Cybersecurity news and updates using this hashtag!
About 24By7Security, Inc.
24By7Security provides a robust menu of cybersecurity and compliance services in a variety of industries, both regulated and non-regulated, including healthcare, financial services, education, and others. Promulgating applicable industry standards such as the NIST Cybersecurity Framework, PCI-DSS, HIPAA, NIST 800-53, NIST 800-171, and CMMC, the firm's experienced and highly credentialed staff include CMMC Registered Practitioners, Certified Information Security Systems Professionals, Healthcare Information Security and Privacy Practitioners, and others. The award-winning firm is certified as a Registered Provider Organization by the CMMC Accreditation Body and as a Qualified Security Assessor by the Payment Card Industry Security Standards Council. To learn more, visit https://www.24By7Security.com.
#DontRiskITSecureIT