Entrepreneur and Investor – Faisal Sajwani aims to take business to a global scale
Industry: Entrepreneurs
A vision to utilize his entrepreneurial skills in order to pave the way into creating a business empire.
Dubai, United Arab Emirates (PRUnderground) October 13th, 2019
Faisal Sajwani, a visionary Emirati, acknowledged at a very early age that knowledge is power. During his academic years, he received numerous distinction awards for his outstanding performance. He holds a Bachelor's Degree in International Studies from the prestigious Zayed University. Following his graduation, he garnered experience in both the real estate and banking sector. This enabled him to gain substantial knowledge in a variety of fields thereby giving him a broader perspective on market behavior and investment along with the benefits and risks it entails.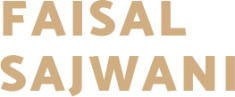 In addition to that, he aims to stand tall as a prominent figure in the respectable field of Motivational and Influential Speaking. Growing up, he observed his parents who were actively involved in contributing to society through volunteer work because of which, he understood how rewarding and liberating it is to help and empower people all around to live up to their greatness, create the life they want, and live their dreams.
Faisal invests a majority of his time studying the human behavior and mind. He firmly believes that the mind is a powerful force and can influence any decision you make. He stresses on the importance of training and reforming your mind in such a way that no setback adversely affects your overall outlook of the set goal. Having said that, he aims to educate people on how the mind plays a huge role in our lives and if trained properly, can improve the quality of your life and how you perceive things. 
Moreover, Faisal is heavily invested in making a difference in society by focusing his time & efforts on building a strong stand as a Motivational Speaker & Life Coach. With the aid of his remarkable experience and insight, Faisal Sajwani's sole vision is to help people from all around the world to achieve their goals and dreams in order to uplift society to its true potential.
About Faisal Sajwani
An inspiring Motivational Speaker, Faisal Sajwani is a visionary Emirati who has a strong passion for helping people achieve their goals and reach their full potential. He believes that the mind is a powerful tool. Once set in the right direction, it can be used to achieve anything in life. With his guidance, Faisal Sajwani can help you breakthrough challenges and reach your full potential in order to succeed.