Entrepreneur and Investor – Faisal Sajwani strives to uplift the community while inspiring the masses to follow their dreams.
Industry: Entrepreneurs
A vision to utilize his entrepreneurial skills to create an Empire.
Dubai, United Arab Emirates (PRUnderground) October 6th, 2019
Born in Dubai, Faisal Sajwani graduated from Zayed University in 2016 earning an Honors Bachelor's degree in International Studies; specializing in International Affairs. Following that, he gained invaluable experience in both Real Estate and Banking sectors, which has vastly contributed to his knowledge in investment management. He is fairly intuitive and has a great understanding of the market. It is commendable how at a very young age of 25, he's developed a strong intellect whilst being able to push against all odds and enter the complex field of investment with utmost confidence.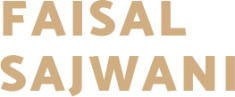 Aiming to become a profound figure in the Motivational & Influential speaking field, he also invests a predominant amount of his time in studying and understanding the market conditions and risks involved. What sets him apart is that he has a constant thirst for knowledge and is an ardent reader. He is very well versed with the market behavior and pattern, which gives him the edge in making sound investment and financial decisions. 
In addition, Faisal is avid for information relating to business, finance and the current market trends. He keeps himself up-to-date on the same and possess a sharp worldview. Moreover, he utilizes his entrepreneurial skills in order to pave the way into creating a business empire. That being said, his many valuable traits make him the perfect example of a successful entrepreneur. These traits include strong people skills and work ethic, utmost patience, high level of determination and a clear sense of direction – to name a few. 
As a serial entrepreneur, he aims to take businesses to a global scale and achieve to be part of the Fortune 500 companies. Having said that, with the aid of his experience and intellectual asset, he aims to encourage every type of business and talent to grow and prosper in whatever field they are in. Ultimately, with the vision to inspire the masses to follow their dreams, Faisal Sajwani aims to send a message across that no goal is impossible to achieve.
About Faisal Sajwani
An inspiring Motivational Speaker, Faisal Sajwani is a visionary Emirati who has a strong passion for helping people achieve their goals and reach their full potential. He believes that the mind is a powerful tool. Once set in the right direction, it can be used to achieve anything in life. With his guidance, Faisal Sajwani can help you breakthrough challenges and reach your full potential in order to succeed.