Ethel's Club set to open inaugural location this coming November in Brooklyn
Industry: Real Estate
New York City based social and wellness club designed for people of color announces location opening this Fall.
Brooklyn, New York (PRUnderground) August 28th, 2019
Wellness and Social Club Centering People of Color to Open in Brooklyn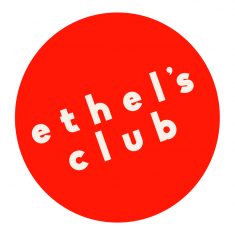 Ethel's Club, the first private social and wellness club geared towards people of color, will open their inaugural location this coming November in East Williamsburg, Brooklyn. The club aims to tackle the lack of diversity and inclusion in similar social clubs and third spaces by centering and celebrating the needs of members of color. The club will feature intersectional programming, on-site therapy consultations, intentionally-designed gathering spaces and a podcast recording studio.
The interior design of the space is as thoughtful as the programming calendar. The majority of the furniture and decor was chosen in collaboration with PoC artisans, makers, art curators, and designers. To bring this to life, the company brought on Shannon Maldonado, founder of Yowie, a home and life shop focused on community in Philadelphia. Maldonado recently directed the interior design and branding of The Deacon, a boutique hotel and event space, also in Philadelphia. She is spearheading all interior styling for Ethel's Club.
Founded by real estate startup entrepreneur, Naj Austin, Ethel's Club recently signed a lease with real estate developer, The Hudson Companies Inc. at The Breeze, a renovated creative office building at 315 Meserole Street in East Williamsburg. The building is adjacent to Netflix's recently-announced studio complex and is a short walk from the L train's Morgan and Montrose stops.
The vision of Ethel's Club is to create space for people of color where there isn't any, allowing them to feel heard and seen in a social and creative atmosphere. The East Williamsburg location is the first of many on their roadmap, with a long-term vision of opening clubhouses in several major cities to give marginalized communities a place to thrive.
The company is looking to stray away from traditional coworking layouts and opt instead for organic break-out areas that foster the cultural and social aspects of membership. The programming, led by Vanessa Newman, aims to establish Ethel's Club as a cultural epicenter for emergent and prominent creators of color. The calendar includes exclusive artist performances, live music premieres, gallery shows, comedy sets, creative workshops, wellness group sessions, salon series and more.
"Bringing both Vanessa and Shannon onto the team has been critical and transformative to the company — they've done an incredible job of taking our enormous vision and turning it into a whimsical, compelling and authentic experience," said Austin.
To become a member of Ethel's Club, there are two tiers to choose from: a House membership (priced at $195 per month or an annual due of $2,100) with full access to the space and all its amenities, programming, exclusive digital content and deals with local partners,and a Culture membership ($65 per month or an annual due of $600) geared exclusively towards access to after hours and weekend programming and events.
The social club hopes to gather an eclectic and sincere community of people by adding questions about social values, community involvement and even astrological signs to the application.
Ethel's Club plans to open its doors to members on Monday, November 4, 2019.
Ethel's Club
315 Meserole,
Brooklyn, NY 11206
@ethelsclub
www.ethelsclub.com
About Somewhere Good
Somewhere Good is a social platform reshaping the digital experience by prioritizing identity and co-creation. Founded by Naj Austin, the company also works alongside digital innovators to ensure intentional community practices are built into the experience of the platform. Somewhere Good will launch in late 2021.