Exclusive Deals From FlipHTML5 Page Flip Software On All Packages
Industry: Computer Software/Services
FlipHTML5 promotional sales are now in the air. Coupon codes for Gold, Platinum and Enterprise plans are offered to digital publishers worldwide until Oct 30, 2015.
Hong Kong, China (PRUnderground) October 19th, 2015
The flagship page flip software of FlipHTML5 has been offering high-end tools, features and upgrades throughout the past few months for digital publishers. The platform has been the home to many impressive online brochures, digital magazines, product catalogs and annual reports that mesmerized the viewers. Reaching out once again, the company has announced a special limited time offer on Gold, Platinum and Enterprise packages. These offers will ease the financial burden off the shoulders of the digital publishers and equip them with better tools to create highly creative and versatile online publications.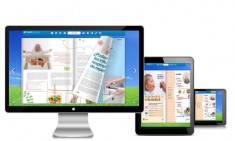 Jackie Peng, from the Customer Service division of FlipHTML5 shared his views on this new move of the company as, "From day one to today, there have been many loyal customers who influenced us, inspired us and most importantly trusted FlipHTML5 to be their premium page flip software. Now it is our turn to offer them the best deals. We have not imposed any restrictions on any of these exclusive deals. So if you are a digital publisher who strives to be updated and move front with the latest upgrades of the industry, this is your opportunity to grab the best deal that suites your needs. "
Coupon codes powered by FlipHTML5 are available at the order page at http://fliphtml5.com/fliphtml5-pricing for Gold, Platinum and Enterprise packages. The coupon codes are valid only up to Oct 30, 2015. Page flip software discounts for each package is as follows:
·         50% off coupon code for the first month of the Gold plan: CGE-G2F
·         20% off coupon code for the first year of the Platinum plan: A5V-G2W
·         20% off coupon code for the Enterprise plan: QYM-QNU
Contact FlipHTML5 customer support at http://fliphtml5.com/contact-us/ for all technical questions about the offers. To get to know about all the lucrative discounted deals in time in the future offered by the leading page flip software, one can join FlipHTML5 as a registered member on their official website, http://fliphtml5.com.
About FlipHTML5
FlipHTML5 Software Co. Ltd. is a world leading provider of digital publishing software. For many years, They have focused on the research and development of outstanding range of e-publishing software for users around the world. Furthermore, they offer customized solutions for publishers in different industries.