Faisal Sajwani's Innate Passion to Help People
Industry: Entrepreneurs
A vision to make a positive impact & contribute to the society in the United Arab Emirates.
Dubai, United Arab Emirates (PRUnderground) September 9th, 2019
Born in Dubai, Faisal Sajwani graduated from Zayed University in 2016 earning an Honors Bachelor's degree in International Studies; specializing in International Affairs. His volunteering spirit was instilled in him from an early stage in life. He gives credit of his innate passion for helping people to his parents who were also actively involved in social activities. His mother headed the social service department in Dubai Health Authority and his father represented the UAE as a diplomat.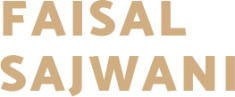 Moreover, Faisal carries experience in both the Real Estate and Banking sector. He began his career as an Intern in Damac Properties and later on worked in the Treasury Department of Noor Bank. All of which helped him gain substantial knowledge in a variety of fields.
Aiming to become a prominent figure in the Motivational & Influential speaking field, he invests the majority of his time in studying human psychology and developing a plethora of hypotheses and theories through research and observation. This has helped him develop a fond interest in helping and empowering people all around to live up to their greatness, create the life they want, and live their dreams. As such, Faisal firmly believes in the power of the mind as it is the subject of the first article he wrote in the field. Fundamentally, he aims to help people bridge the gap between where they are and where they want to be. His ultimate goal is to uplift society to its true potential because he believes that individuals can push themselves to what they truly want to be.
Faisal still looks to his parents as his role model and biggest inspiration. He truly believes that all his passion to learn and dedication to his vision comes directly from what he was taught as a young child.
Furthermore, Faisal started travelling at a very young age. Visiting & exploring different cities that are enriched with divine history and culture along with meeting people of different ethnicities and mindset. This enabled him to have a better understanding of diverse people who come from different walks of life along with their perspective, experience, and outlook on everything. Therefore, he believes that travelling truly broadens the perspective of individuals through looking at life from different aspects.
Finally, Faisal wishes to inspire people and ignite their passion to not only achieve their ultimate goal in life, but guide them on the right steps to achieve it effectively.
About Faisal Sajwani
An inspiring Motivational Speaker, Faisal Sajwani is a visionary Emirati who has a strong passion for helping people achieve their goals and reach their full potential. He believes that the mind is a powerful tool. Once set in the right direction, it can be used to achieve anything in life. With his guidance, Faisal Sajwani can help you breakthrough challenges and reach your full potential in order to succeed.