First Major Mobile Food Truck Festival of 2012 Includes Celebrity Line Up
Industry: Food & Drink
The Mobile Gourmet announced that it will host the first major mobile food festival of the year in Northern California, featuring more than 13 food trucks and celebrity chefs at its Food Trucks at the Fairgrounds event at the Alameda County Fairground, sponsored by Stitches 'n Dishes.
San Francisco (PRUnderground) February 15th, 2012
Thirteen of the finest food trucks from one of the world's top culinary destinations, the San Francisco Bay Area will offer their gourmet fare at Food Trucks at the Fairgrounds, presented by The Mobile Gourmet (https://the-mobile-gourmet.com) at the Alameda County Fairground in Pleasanton, CA. on Saturday, February 18, 2012 from 4:00pm to 8:30pm.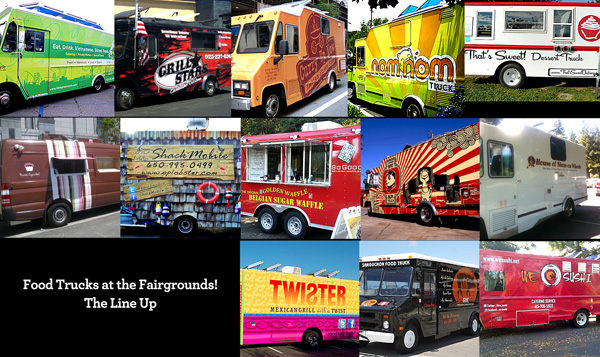 In this extremely rare culinary opportunity, a line-up of celebrity chefs, including Food Network's, Great Food Truck Race finalist, Nom Nom, Monica Wong, Eater's Choice Award winners, Quynh Nguyen and Susie Pham of Little Green Cyclo, Curtis Lam and Kevin Kiwata of the Chairman Bao truck, Michelin rated Chef Carlos Altamirano of Sanguchon, and Zagat rated Lobster Shack with its ShackMobile join a cast of San Francisco Bay Area five-star mobile chefs for an epicurean celebration of mass proportions.
Nestled between the landmark, Heritage Plaza and Commerce Court in a park setting, furnished with picnic tables, guests will enjoy live music on stage, and beer, wine and cocktails served at the Ovations bar, as well as indoor accommodations for an estimated 1000 guests.
Jill Horn, Co-Owner of The Mobile Gourmet said, "We are so excited to bring Food Trucks at the Fairgrounds back to Alameda County Fairground this year. Last year, thousands of people attended, and the event exceeded our expectations. This year, we've added the indoor venue, full bar, and a line up of incredible celebrity chefs."
Vegan, vegetarian, gluten-free, and other specialty food fare will be offered by most of the food trucks participating in the event. "We've really got something for everyone at this event," said Horn.
Stitches 'n Dishes, a Food Network's Eat St. blog partner, announced a free drawing to win a Nintendo Wii Console Bundle Package, including Super Mario Bros. 3, Food Network's Cook or Be Cooked, Order Up!, and a Wii Cooking Set valued at $500. Entry forms must be submitted during the event.
Stitches 'n Dishes also announced a pre-event drawing to win dinner for four at the event, valued at $60. Guests may enter the pre-event drawing at the Stitches 'n Dishes blog site.
"This is the perfect venue and a stellar line-up of celebrity and five-star chefs to kick off the Spring season," said Christopher Ford, Co-Founder of Stitches 'n Dishes.
The event overlaps the annual Home and Garden Show, exhibiting at the fairground between noon and 6:00 pm. Home and Garden Show attendees are encouraged to stay for dinner at the Food Trucks at the Fairgrounds event.
Food trucks at the Fairgrounds will be held at the Court of Four and Buildings P&R at the Alameda County Fairground on Saturday, February 18, 2012 between 4:00 pm and 8:30 pm. Walk in or Park at Gate 12. Food Trucks at the Fairgrounds will delight your Bay Area readers, as it will be a fun enjoyable event with delicious food options for all.
For more information on the trucks and other Mobile Gourmet events, visit: https://the-mobile-gourmet.com.
About The Mobile Gourmet:
The Mobile Gourmet is a shoe-string start-up formed by two women who've spent their careers in the tech industry. Their mission is to introduce the joys of the food truck phenomenon to the suburbs, which they do by organizing food truck events throughtout the Bay Area. We also organize various private events and fundraisers, utilizing the food trucks as a way to increase the excitement and novelty of the event.
The Mobile Gourmet
650-823-2420
About Stitches 'n Dishes:
Stitches 'n Dishes, the creation of Christopher Ford and Andrew Nicora, and inspired by "Stitch", an American Staff. Terrier mix / Bichon Frise, provides marketing, advertising and PR services to the mobile foods industry and it provides consumers with a single source for original articles, reviews, food photography, California fairs and events, discounts, contests and giveaways.
Stitches 'n Dishes is California's premier mobile foods resource, providing a platform that stitches a link between food lovers, entertainment venues and mobile food operators, and the first fully dedicated marketing, advertising and development resource available to food vendors in California.
Contact
Christopher Ford, Co-Founder
Stitches 'n Dishes
chris@stitchesndishes.com
916-612-9954