FlipHTML5 Flipping Book Software Hits The 5 Million Download Landmark
Industry: Business
The company has reached a new milestone and received many positive feedbacks from users since the release of the latest version of flipping book software.
Hong Kong, China (PRUnderground) October 23rd, 2015
Being a pioneering firm in the digital publishing industry did not prevent FlipHTML5 from constantly upgrading their tools and inventing new technology that help digital publishers to create alluring and multimedia rich flipping books in the most efficient manner. The new version 5.2.0 of the flipping book software that was released recently was also embraced by the digital publishers with open arms. The company received many inspiring news from their users since the release of the upgraded version. The appreciation for the cool features, options and tools provided by the flipping book publisher were brilliantly portrayed by these feedbacks. Reaching the 5 million downloads milestone was the ultimate height of success for the FlipHTML5 team. The software continues to allow publishers to create interactive flipping books in a more simple and efficient manner through the new upgrade.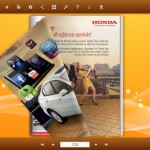 Winston Zhang, the CEO of FlipHTML5 extended his gratitude to the digital publishers who have been inspiring and using the flipping book software as, "Reaching the 5 million downloads milestone would have never been a reality if not for your contribution and encouragement. It is digital publishers around the world who had faith in us and helped us to embark our journey of success. We hope to serve you even better in future in hope that you will be with us for many more years. I would like to take this moment to thank my team as well as every other person who played an active role in taking a mere concept this far."
FlipHTML5 flipping book software could be the link between the sales goals and the actual sales of a company. Reach the target audience in an entire new approach through versatile digital magazines, product catalogs, brochures and e-books. To download the latest version of the flipping book software and to get a thorough understanding about the digital publishing platform, visit their website.
About FlipHTML5
FlipHTML5 Software Co. Ltd. is a world leading provider of digital publishing software. For many years, They have focused on the research and development of outstanding range of e-publishing software for users around the world. Furthermore, they offer customized solutions for publishers in different industries.