FlipHTML5's New Flipbook Software Now Provides Great Upload Feature
Industry: Technology
In a recent announcement made by FlipHTML5, the company has launched the upgraded version 5.9.5 of their flipbook software.
Hong Kong (PRUnderground) May 9th, 2016
Working continuously on improving their flipbook software, FlipHTML5 has now announced the launch of their new and improved version 5.9.5 of the software. The new version comes with the improved speed of uploading a file to the servers. Additionally, the creators and designing team has worked on sorting out some bugs which were reported, at times, with the previous version of the software.
"In our rigorous efforts of making our software better with each passing day, we have presented this upgraded version of our well appreciated and popular flipbook software. Special care has been taken to accelerate the uploading speed significantly in this software", the company representative said.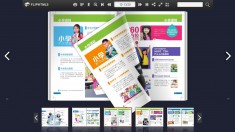 Reportedly, with the earlier version of the flipbook software, people sometimes faced the issue of it taking a lot of time to upload a large flipbook directly to FlipHTML5 platform within the software, without output. The lag in speed was something which people were expecting to be worked on. It is a fast paced environment these days and publishers and marketers looked for fastening the upload speed somehow.
Realizing the rising need of speeding the process up, the company designers worked on the issue and successfully dealt it with when they announced the launch of the new version of this software which is now incredibly fast and processes the uploads much faster than ever before.
Additionally, the designers have also worked on some bugs, with the previous versions, which were reported at few instances by people. By doing so, they have tried to improve every detail of it to come up with a much improved software and its services for the users. With the new version out now, people can experience its accelerated working process and can work with it for better results.
Go to download the latest version at http://fliphtml5.com.
About FlipHTML5
FlipHTML5 Software Co. Ltd. is a world leading provider of digital publishing software. For many years, They have focused on the research and development of outstanding range of e-publishing software for users around the world. Furthermore, they offer customized solutions for publishers in different industries.