Focusky is Reveal as the Optimal Presentation Maker for Next Report
Industry: Mobile Apps
The rapidly popularizing presentation maker from Focusky is being seen as the best presentation maker for the next reports courtesy of its powerful Charts and Graphs
Hong Kong, China (PRUnderground) April 28th, 2016
Every business idea, information and data needs to be shared with the superiors, colleagues and other stakeholders in the form of charts and graphs. These reports are then required to be presented as a presentation. To come up with clear and professional charts and graphs, the presentation maker, Focusky, has introduced their powerful Graph and Chart features which allow people to turn their numeric data into charts automatically.
"Focusky can create and generate great looking charts and graphs quickly with just one click. It is absolutely the easiest presentation software", the company officials said.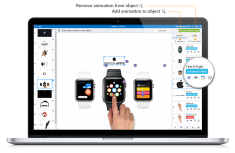 Reportedly, the software comes with various charts options like Bar Chart, Dot Chart, Area Chart, Line Chart, Pie Chart and much more. All that a user needs to do is input his/her information or the numeric data and apply their own custom – designed theme. And with just one click, their professional charts and graphs are generated which easily and clearly presents the information which the data aims at providing to all.
As told, since these chart and graph features take care of the task of presenting information and reports in a clear manner, the other powerful presentation designing features give the presentation and engaging look over all. With the zoom and pan effect, the focus can be created on any specific part the user wants to put emphasis on. Since its transition features are unique, it provides a respite from normal slides. Adding rich multimedia content like videos, audios, images, photo slideshow, shapes or links, the user can turn a normal business presentation into a content rich highly interactive one that presents reports in a professional manner with increased engaging factors and all this can be done within minutes.
With so many features and powerful chart and graph options, this software is becoming a go to one for all users. So the words of company officials that, Focusky is the best presentation maker for people to prepare their next reports are seemingly turning correct.
View animated presentation examples from Focusky: https://focusky.com/digital-presentation-examples.php
About Focusky
Focusky is a premium presentation creating platform to create quality animations, presentations and videos. It provides the killer business presentation tool for the users to deliver the awesome visual experience. Both Windows and Mac users can take good advantage of it to make the animated video for presentation.