Focusky Presentation Maker Updated with WordArt; Making Boring Text to be Captivating
Industry: Business
Focusky presentation maker is the top choice as it has been enriched with the breakthrough WordArt tool.
Hong Kong, China (PRUnderground) April 25th, 2016
Focusky has a solid history of providing easiest and most efficient way for creating staggering animated videos and innovative professional presentations. It is indeed the best reliable alternative tool for the traditional PowerPoint. The development team has embedded complete range of publishing, template designing and tons of other tools in this presentation maker.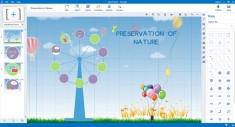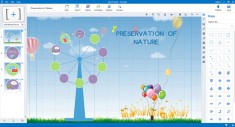 Good news for presenters is that Focusky's programmers have recently included dozens of stunning WordArt into their software. Therefore, this state-of-the-art presentation maker would facilitate users to bring more variation and engage their audience with more stunning colorful presentations.
All types of content become even more captivating and vibrant thanks to the addition of new WordArt tool. The vivid page layout and eye-catching text will have a greater impact on viewers. The interface is more concise, user friendly and designed carefully to outclass the conventional PowerPoint. The functionally rich WordArt equipped with tons of attractive design templates makes Focusky the perfect platform for high-quality professional presentations.
Focusky presentation maker stands apart with modern 3D transition effects that deliver exceptional visual experience. The exquisite content designed in the leading-edge WordArt captures the viewers' attention, and users can be confident that their message would retain in minds of the audience for longer time duration.
Multi-language support has also immensely increased Focusky's popularity, as the presenters can communicate with variety of target audience just by working on this reliable software. Bring all of the creative ideas and imagination to life with remarkable variety of canvas, fonts, animations, images and superior quality 3D animations.
With Focusky, people can efficiently convey the message with compelling slide show and make the business or educational presentations work seamlessly like 3D video. It's now much easier to leave a long lasting impression on viewers mind with this amazing free software, and take advantage of its high-tech functions. Focusky is no doubt the best precise solution for Windows & Mac systems.
Want to learn more powerful presentation making features? Go to http://focusky.com/features/.
About Focusky
Focusky is a premium presentation creating platform to create quality animations, presentations and videos. It provides the killer business presentation tool for the users to deliver the awesome visual experience. Both Windows and Mac users can take good advantage of it to make the animated video for presentation.