Focusky Presentation Software Surpasses One-Million Users Milestone
Industry: Mobile Apps
In the short time since its release, the new presentation software from Focusky has surpassed expectations to record over one million users to date.
Hong Kong (PRUnderground) May 6th, 2016
Focusky's new digital presentation tool recently reached the milestone of over one million downloads worldwide in light of its growing reputation as one of the best PowerPoint alternatives available. The presentation software and video animation tool is free to all users and comes with a range of features that are designed to provide an unmatched user experience.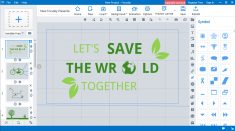 To date, the software has been downloaded over 1.1 million times by users in all major continents around the world. Additionally, it has received scores of positive reviews from users with varying backgrounds, ranging from marketing managers and teachers to developers and students. User examples uploaded to the Focusky website also indicate varied uses for the software, including the creation of product demonstrations and tutorials.
The Focusky Presentation Software combines the latest technologies with a simple and modern design to provide users with a seamless application for creating stunning animated presentations. It can be used to create professional-looking presentations from scratch in as little as 5 minutes or to quickly convert existing PowerPoint presentations. Its features include a new and intuitive animation editor with over 300 animation effects, a zooming path-of-discovery slide transition with 3D-camera effect, and numerous professional video backgrounds which can be added to any presentation.
Users are also able to include social sharing within their presentations, rich media content such as YouTube videos and Flash animations, as well as professional whiteboard animations. In addition, completed presentations can be stored and shared online using Focusky's cloud storage platform, or stored offline for local distribution.
Having surpassed one million downloads, the presentation software from Focusky is expected to increase its market share among presentation tools in the near future. The software is available for download to users with both Windows and Mac computers.
For more features, go to https://focusky.com/features.
About Focusky
Focusky is a premium presentation creating platform to create quality animations, presentations and videos. It provides the killer business presentation tool for the users to deliver the awesome visual experience. Both Windows and Mac users can take good advantage of it to make the animated video for presentation.