Focusky Recommends Its Video Presentation Software to Every Video Producer
Industry: Mobile Apps
The advanced Focusky video presentation software opens doors for everyone to create mind-blowing videos in a simple steps. Presenting videos in an MP4 format is easier.
Hong Kong, China (PRUnderground) December 15th, 2015
Creating video presentations for a potential investor, target market or any other stakeholder of a company can impress the viewer exponentially compared to conventional slide show presentations. And when it comes to a startup, a high quality video presentation could be the decision making factor as to whether it gets funded to move forward or not. However, the barrier for most of the startups is their poor financial background to invest in such high-end advertising and promotional campaigns. Until Focusky video presentation software was introduced, creating a video presentation was an expensive and extravagant task for startups. But not anymore!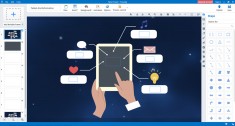 The user-friendly software did not limit its capabilities to be a digital presentation maker but also evolved to be a professional video creator for newbies in any industry. The steps are ultra simple, cost effective and efficient. Even an average school kid with a basic knowledge in IT could create stunning video presentations in just a few clicks. Focusky restricts limitations to just one aspect – creativity. Entrepreneurs with creativity can convert their fine thought into alluring video presentation in a couple of simple steps with the help of the FREE Focusky platform.
Creating powerful video explainers, intros, cartoon animation and promotional videos is not time consuming or expensive, if startups make use of the cutting edge editing features of the video presentation software. Gaining online exposure through video websites such as YouTube has been made easier with the new platform. Startups now could reach millions of viewers worldwide and introduce their products and services in the most interesting manner for FREE. Focusky has the ability to output presentations as MP4 videos directly. No conversions or transitions are needed with this advanced software. Its powerful and visual editing features have simplified video creation significantly. The large collection of royalty free images, 50+ video backgrounds, 3D backgrounds and many other exclusive features are included in the package. In simple words, Focusky has paved the path of success to startups; with a little bit of creativity entrepreneurs could reach their marketing goals in a shorter period of time.
Visit a recent blog post about making cool videos to learn more information.
About Focusky
Focusky is a premium presentation creating platform to create quality animations, presentations and videos. It provides the killer business presentation tool for the users to deliver the awesome visual experience. Both Windows and Mac users can take good advantage of it to make the animated video for presentation.