Focusky, the Top Best Alternative to PowerPoint, Now Hits One Million Downloads
Industry: Mobile Apps
Focusky is a presentation maker that is stated to be a better alternative to PowerPoint. The software has now surpassed one million downloads.
Hong Kong, China (PRUnderground) May 3rd, 2016
With the offices headquartered in Hong Kong, Focusky Presentation Maker has now officially garnered more than one million downloads on its official website at https://focusky.com/. The software is stated to be a superior and best PowerPoint alternative, and can be downloaded for Windows and Mac both. "The Focusky Presentation Maker, the latest member of our team, based on Flash, is developed to reinvent the art of presentation, bringing a brand new thought on digital presentation," states the Focusky Software Co. Ltd website's "About Us" page.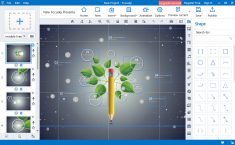 A spokesperson for the company made a press statement in which he discussed the features of the software "Here at Focusky Software Co Ltd, the Focusky Presentation Maker is our latest, most advanced endeavor. The software is an amazing alternative to commonplace presentation makers like the PowerPoint. Not only does it allow users to make striking presentations, users can also make amazingly professional animations. Other features include a very simple user interface, wide range of templates and whiteboard animation integration."
He further added "Many more features of the software can be seen on our official website. We are now very pleased to announce that the Focusky Presentation Maker has officially surpassed one million downloads, with more downloads still counting. It won't be long till we hit two million".
"With Focusky, I was able to create my demo video presentations super fast and get professional results. The drag and drop functionality was easy to learn and actually kind of fun. I would highly recommend Focusky for anybody looking to do an animated presentation. Thank you," stated a Focusky user in his testimony of the software.
Amazing animated presentation examples from Focusky can be seen at https://focusky.com/digital-presentation-examples.php.
About Focusky
Focusky is a premium presentation creating platform to create quality animations, presentations and videos. It provides the killer business presentation tool for the users to deliver the awesome visual experience. Both Windows and Mac users can take good advantage of it to make the animated video for presentation.