Focusky's Advanced Presentation Maker Getting Warm Feedbacks From Speakers
Industry: Mobile Apps
Coming up with highly appreciated and successful presentation maker, Focusky is rapidly becoming the go to software for everyone.
Hong Kong, China (PRUnderground) December 10th, 2015
Whether it is a business person, a teacher, a speaker or anyone, presentations have been helping a lot to successfully showcase their words. Providing a whole new meaning to presentations and making them more interactive and eye catching, Focusky designed and created their presentation maker, which has given amazing presentation making and delivering experience to everyone. Getting huge success since its launch, their presentation maker has become a highly appreciated alternative to old PowerPoint slides and speakers are applauding it all over.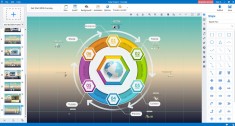 Mattie Lee, Head Designer of Focusky, said, "The main reason that Speakers and everyone else, using our presentation maker, are finding it so helpful is its ease of use and amazing features which help people create superbly interactive presentations and in keeping forward their words in a much effective manner."
The creators of Focusky presentation maker said that it is better due to the creative and amazing features that constitute it. As told, the software has extremely powerful animation tools that allow enriching the presentation with highly interactive animation, templates and themes and change them anytime by the use of their animation editor. Further, it supports and enables the speakers to enrich their slides with videos, sound, links, photos and much more to give their slide a much more eye catching and attractive outlook.
Speakers are especially finding it helpful due to the way it helps them in creating and presenting their presentations with completely different transition styles rather than regular slides. Further, backed by an amazing zoom and pan effect, it helps them in focusing on any particular part of the slide and put more emphasis on it. With a wonderful 3D animated background, the presentation looks extremely wonderful and catches everyone's attention. Its multiple output options provide the ease of using it anytime, anywhere.
With so many exciting features and constant updates for making it better with time has made it a perfect alternative for PowerPoint slides and thus, no wonder that Speakers, teachers, businessmen and every other user of it is giving high remarks to it.
For more information visit a recent blog post about 3 Best Animated Presentation Makers.
About Focusky
Focusky is a premium presentation creating platform to create quality animations, presentations and videos. It provides the killer business presentation tool for the users to deliver the awesome visual experience. Both Windows and Mac users can take good advantage of it to make the animated video for presentation.