Food & Beverage Firm, The Burrell Group, Predicts Everything Rosy for 2015 (Romancing the Rose)
Industry: Food and Drink
Whether it's presented in a bouquet or glass of wine, dessert or cocktail, the rose will always speak to matters of the heart.
New York (PRUnderground) January 16th, 2015
The rose has been associated with love and beauty for centuries. Sacred to the goddess Isis, and dedicated to both Aphrodite and Venus, fast-forward to the 21st Century and the rose still reigns supreme as the flower of love. 2015 looks to be the year of rose in many forms, the culinary world using rose petals, oil and water for shortbread cookies and cakes, pastry creams and icings, sorbets and ice cream, tarts, jellies and jams. Rose extract is now infused with delicate-tart hibiscus for cocktail use as well.
THE CLOVER ROSE
3 dashes Rose + Hibiscus Floral Extract – ¾ oz simple syrup – ¾ oz pasteurized egg white – ¾ oz fresh lemon juice – 1-1/2 oz quality gin – ¾ oz raspberry liqueur
Shake all ingredients on ice vigorously; strain into glass.
Rose + Hibiscus Floral Extract is made from a concentration of premium hibiscus (hibiscus sabdariffa) and Bulgarian rose flowers. Used like bitters, a few drops add delicate floral fragrance and pretty pink hue to baked goods, gelatins, whipped creams, white spirited cocktails, sparkling wine, ice and sugar cubes. $10. www.wildhibiscus.com
Rosé wine is no longer relegated to a seasonal summer fling. "Say goodbye to what you thought Rosé was!" says Kathleen Thomas, Sommelier and Manager of SP Wines, a boutique quality-focused wine store in Ft. Lauderdale, Florida. "Rosés are versatile, pairing well with many foods. Several grape varietals will produce Rosé wine.  You'll find the sweet to surprisingly light, delicate and dry, medium-body with fruity notes, and bold with intense earthy finish.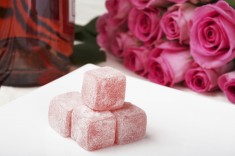 Provence is known for elegant Rosés, and a typical blend might be Grenache and Syrah, common varietals to the region.  2012 Chateau du Rouet, Cuvée Reserve Tradition is a perfect example. The wine is a shade of salmon with soft melon aroma, raspberry-plum flavors and zesty finish. Tuscany blends Sangiovese and Canaiola grapes, offering a more medium-bodied, fruit forward Rosé. Bibi Graetz, Casamatta Rosato—from the hills north of Florence—begins with floral on the nose and dark fruit flavor with a hint of licorice on finish. At the moment my favorite is from the Willamette Valley, in Oregon. 2014 Mouton Noir, Love Drunk Rose is an exciting, expressive wine that blends Chardonnay and Pinot Noir.  Expect mixed berry on the nose, a mouthful of wild strawberry and crisp watermelon with a soft, round finish."
About THE BURRELL GROUP, LTD.
The Burrell Group, Ltd. is a full-service specialty food & beverage communications and marketing firm. With over 25 years experience in food manufacturing, hospitality and beverage sectors, The Burrell Group has its finger on the pulse of what's new and trending in these industries.