Get hassle-free Retraction, Reflection & Extraction with GerVetUSA Dental Instruments
Industry: Medical
Subsequent to accomplish resounding success, an exclusive Dental Kit was established by GerVetUSA a few couples of years ago for advanced as well as basic dental procedures.
Albertson, NY (PRUnderground) April 8th, 2020
Subsequent to accomplish resounding success, an exclusive Dental Kit was established by GerVetUSA a few couples of years ago for advanced as well as basic dental procedures. Hence so many practitioners never sacrifice on equipment reliability. Most likely tool substance must be of excellent quality since dentists do not purport to change their dental instruments more frequently. And we choose quality to everything. The skillful craftsmen originated this specific veterinary dental kit in such a manner that it could cover all necessary equipment which were mainly required by most of the dentists. A wise investment would be to purchase dental equipment in a kit form. Discuss that you would like to improve your patient results. Is that the aim to do more surgical interventions? Or need your Armamentarium Instrument updated? It will assist in deciding what dental instruments to buy now. GerVetUSA's team managed to design such kits on the demand of its clients across the globe. The dental kit consist of the following 5 instruments:
Periotome Double Ended (size 2mm and 2.5mm)
Usually Periotome are used in a technique which promotes the extraction of teeth with minimum disruption to the periodontal ligament accompanying them. The periodontal ligament is detached from the core portion of the tooth by the periotome. The tool has double ended edge on 2 different sizes such as 2mm and 2.5mm. Therefore, reaching tapered region is no more difficult by such smart instrument.
Feline Periosteal Elevator Double Ended (size 3.5mm x 2mm)
The feline periosteal elevator double ended is intended for cats and dogs both. The periosteal elevator is required when conducting surgical extractions to lift the muco-periosteal fold out of the surface. The extra ordinary curved, dished periosteal double-ended elevator is perfect for both cats and dogs. When performing surgical extraction, Double ended periosteal elevators are ideal for raising gingival flaps especially for felines.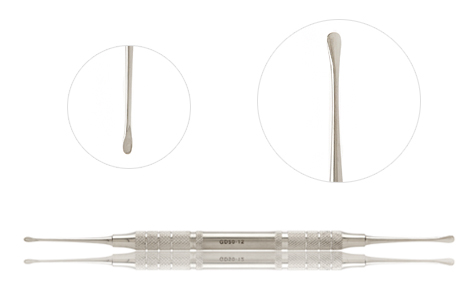 Canine Periosteal Elevator Double Ended (size 5.5mm x 3.5mm)
The canine periosteal elevator double ended has specialized and mostly suitable for larger animals. With the same characteristics as feline periosteal elevator, this instrument has relatively wide edges that can execute reflection and loosen tooth quickly in bigger jaw. With better size and shape, elevation and reflection can be achieved through swift movement. This multi-tasking elevator can also carryout luxation successfully.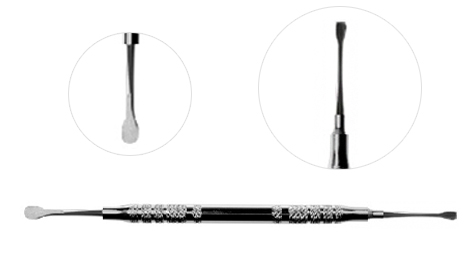 Feline Luxating Elevator Long Handle (size 1.3mm inward angle)
Every being seeks for comfort while working specially doctors and dentist when performing any surgical procedure or dental luxation. Feline Luxating Elevator which is designed at 1.3 mm size with inward angle has long handle. Smoother grips can aid quick and masterful techniques. It surely slows down the pain to the patient. Moreover, the inward angle of this luxating elevator supports grasping roots efficiently. Make sure to avoid operating equipment forcefully.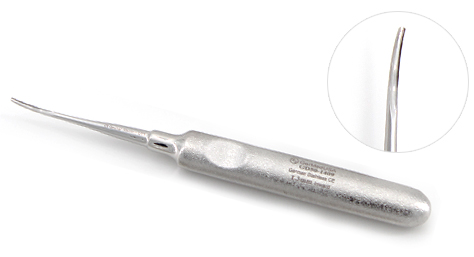 Feline Luxating Elevator Long Handle (size 1.3mm backward angle)
The backward angle tends to extract the tooth perfectly. Whereas the feline luxating elevator with long handle in the size of 1.3mm reinforce luxation and elevation convincingly. Their technical effectiveness was quantitatively tested, and clinical studies were completed. Such elevators are used in suitable circumstances and meet the ideal for healthy successful exodontia. However, less pressure needs to be produce while using such elevators to enhance the life of this tool.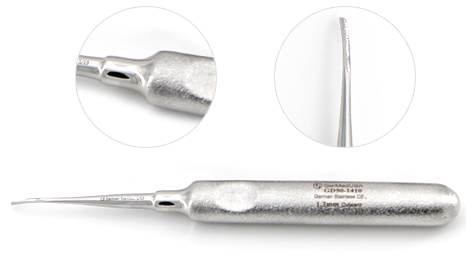 Primary Reasons for owning GerVetUSA Dental Kit
MULTI TASKNG

: To gain insightful surgical extraction for feline and canine both, this dental kit is ideal.

ALL IN ONE

: Solution for all dentists' problems, who were looking various tools in one kit.

LESS PAINFUL

: Double ended Periosteal is capable of performing retraction and reflection while causing less pain and damage to pet's teeth.

QUALITY OVER ANYTHING

: With any product, we pay for quality and not just the dental instruments. But take into account the long-term value of a specialized instrument. This dental kit has it all.

SHAPE & SIZES

: The accuracy of any dental tool is determined by the shape and size, yet GerVetUSA keeps that in mind and manufactures equipment accordingly.
About GerVetUSA Inc
GerVetUSA manufactures and sells high-quality German forged surgical instruments, which have been utilized with great success by surgeons around the world for decades. Our dedicated research and development team have worked closely with some of the top surgical instrument design engineers, surgeons, inventors, and craftsmen in the industry. This has allowed us to produce and deliver high quality and affordable instruments utilized throughout the surgical instrument industry.
Our instruments are used to treat patients in medical, dental, and veterinary markets.  GerVetUSA specializes in designing and modifying products to the exact needs of surgeons for their specific specialties.