Gorji Gourmet Pasta Sauce Adds Scovie Award To ZestFest Wins
Industry: Food & Drink
Gorji Gourmet Pasta Sauce garners 2016 Scovie Award that honors best spicy and savory food products to ZestFest 2015 Best Pasta Sauces and Best New Product win.
Dallas, Texas (PRUnderground) November 5th, 2015
2016 Scovie Awards Competition Honors Best Spicy & Savory Food Products In Blind Tastings
Dallas, Texas–On October 27, 2015, the 2016 Scovie Awards judging panel of top culinary experts honored Gorji Gourmet Puttanesca Pasta Sauce with 2nd place in the prepared food, pasta sauce category. Chef Gorji's savory, spicy sauce with vine-ripened tomatoes, fresh basil and garlic, capers, kalamata olives, and cayenne can be used with chicken, beef, seafood or any recipe requiring zingy tomato sauce.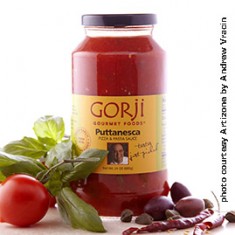 The Scovie Awards is an annual competition that recognizes the top fiery food products in the world. The awards were named after the Scoville Scale, a measurement of the spicy heat of a chile pepper. Dave DeWitt, founder of the Scovie Awards said there were 126 total companies entering this year. There were entries from 30 states and 8 countries: the United States, United Kingdom, Canada, Germany, Sweden, Austria, New Zealand, and Australia. "Companies from all over the world continue to recognize the Scovie Awards as the most competitive and challenging blind taste-tested event in the world," DeWitt, said.
Gorji Gourmet Best Pasta Sauce Winners Include Second Blind Tasting Win For Putanesca, ZestFest 2015 Best New Product for Arrabiata Diavolo
At ZestFest, December 2014, Chef Gorji's Arrabiata Diavolo, Puttanesca and Pomodoro sauces won gold, silver and bronze in the pasta sauce cook off category. The Arrabiata Diavolo also took silver in the 2015 best new product cook-off category, winning the coveted Golden Chile Award.
Gorji developed Gorji Gourmet Foods from recipes he developed and uses in his restaurant kitchen. They help home cooks easily make gourmet tasting dishes. The Pomegranate Vinaigrette, Dipping Oi/ Marinade,  Arrabiata Diavolo, Puttanesca and Pomodoro sauces are made with imported olive oil and no added sugar. and are packaged in glass containers. They can be purchased at area DFW Whole Foods, specialty gourmet stores and online at gorjigourmet.com, artizone.com and amazon.com.
For more information about Chef Gorji and Gorji Gourmet Foods, please visit chefgorji.com.
About ChefGorji.Com
Gorji has been chef-owner of Canary By Gorji, a small 10-table restaurant in Dallas, Texas for 12 years. He has published an award-winning debut cookbook, Zing! By Gorji, featuring his signature "New Mediterranean" cuisine and developed his product line Gorji Gourmet Foods from recipes he uses in his kitchen. They include Pomegranate Vinaigrette, Dipping Oil /Marinade and Arrabiata Diavolo, Puttanesca & Pomodoro pasta sauces. All three won Best Pasta Sauces, winning gold, silver and bronze at Zestfest 2015.The Arrabiata Diavolo, won silver for 'Best New Product'.