Grayhawk Capital Announces $75M Grayhawk Venture Fund III Focused on Rapidly Growing Technology Markets
Industry: Finance
Based in Scottsdale, Arizona, Grayhawk Capital is Expanding its Growing Relationship with Israeli-based Technology Companies
Scottsdale, Ariz. (PRUnderground) March 18th, 2019
Grayhawk Capital, Arizona's longest operating venture capital firm headquartered in Scottsdale Arizona, today announced Grayhawk Venture Fund III, a new $75M venture capital fund focused on high growth technology companies. The fund was launched in January, 2019, and recently had its first close. For nearly 20 years, the firm's investment philosophy has been to find serial entrepreneurs and exceptional management teams that are transforming great ideas into game-changing innovations.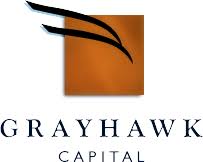 Collectively, the partners of Grayhawk Capital have made 91 total investments representing over $525M of total assets under management. Some of their notable investments include AccountNow, Carefx, Coinstar, Efficient Networks, ESS, GolfNow, Lucid Software, MXLogic, QCSI and SOCi. Grayhawk Capital is looking to grow its successful track record, and has taken note of the variety of Israeli-based companies that have expanded into Arizona. The firm currently has two Israeli-founded companies, Profitect and Totango, in its portfolio, and is looking to Israel for additional investment opportunities.
To pave the way for its focus on Israel, Grayhawk Capital has added Leib Bolel as a Venture Partner. Also serving as the President and CEO of the Arizona Israel Technology Alliance, Bolel oversees the facilitation of growth in bilateral trade between the technology communities of Arizona and Israel across the spectrum of the technology sector.
"We've been impressed with the advanced technology we've seen coming from Israel into Arizona, and we want to be a part of that supportive ecosystem," said Sherman Chu, Managing Partner and Co-founder of Grayhawk Capital.  "The addition of Leib will help us make the right connections and expedite the building of strong, collaborative relationships with a variety of Israeli-based early growth technology companies."
Israel is world renowned as being the "start-up nation" and is the world leader for number of start-ups per capita—with 600 net new funded startups each year and over 300 multinational corporations R&D centers. Start Up Nation Central reports that there are 6,000 startups and technology companies in Israel and the country is third in the world in the Global Innovation Ranking. Israel also has more companies listed on the Nasdaq stock market than any country besides the U.S. and China. Profit-driven Israeli innovations include a long list of market firsts such as disk-on-key technology, IP telephony, ZIP compression, the ingestible pill-size camera, and many more.
"It is a great opportunity to join an established fund such as Grayhawk Capital that has already experienced strong returns through its current portfolio of investments including Israeli-founded companies," said Bolel. "This success provides a springboard for the firm to continue to make a significant difference by helping Israel, Arizona, and the U.S. as a whole, find mutual paths for collaboration."
About Grayhawk Capital
Based in Scottsdale, Arizona, the partners of Grayhawk Capital are a seasoned and cohesive management team with 80+ years of collective experience over 10 venture funds. Their superior track record and strong returns are based on a proven investment model providing Series A funding to the dynamic and rapidly growing Software-as-a-Service (SaaS) market in emerging tech hubs. With a current target size fund of $75M, Grayhawk invests in the information technology industry in sectors such as mobile computing, cloud, security, enterprise & application software, business intelligence, healthcare IT, and financial. To learn more, visit https://grayhawkcapital.us.