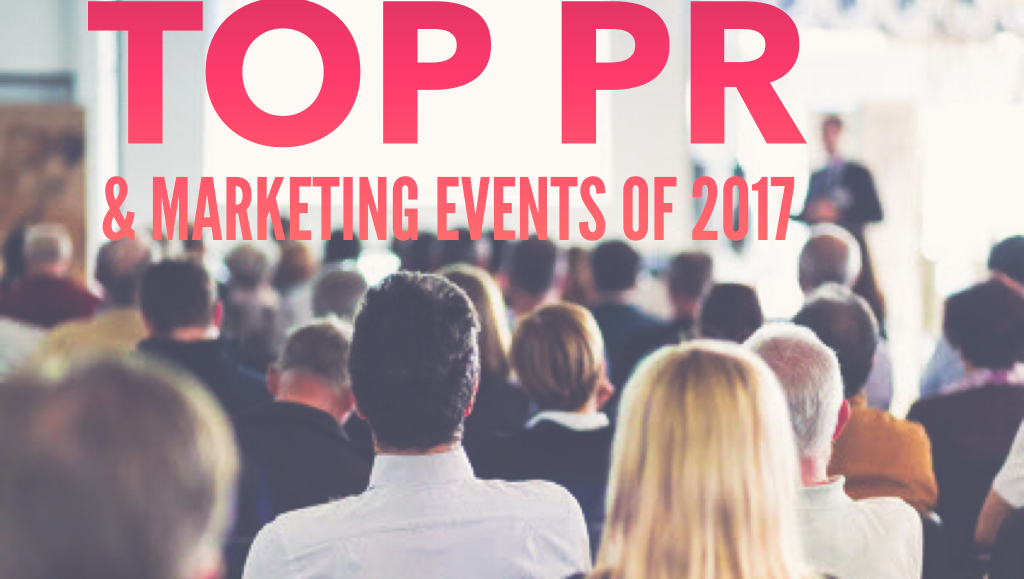 Industry events can be a great place to network with peers, learn the latest tactics and strategies, find out about competitors, and even promote your business. Many of us go to do all of the above.
PRunderground.com has once again put together a master list of the top PR (Public Relations) and digital marketing conferences for 2017.
The list is sorted by date and conference summaries are pulled from the event websites.
(Please contact us if we are missing an important conference. If you appreciate this resource, feel free to mention it on your blog or social media.)
Conference/Event
Dates
City
Cost (USD)
Conference Summary
Annual Conference for Media Relations Professionals
Jan 11-13, 2017
New York
$1,380
This program offers experienced media relations professionals
an opportunity to focus on proven and emerging practices in institutional
communications and to hear firsthand from industry experts on how to best get
your institutions message heard.
Altitude Summit
Jan 31-Feb 3, 2017
Palm Springs
Sold Out
Alt Summit is THE premiere conference for creative entrepreneurs and stylish social media
influencers. At our conferences, youll find classes and information for a
broad range of skill levels. If youve already designed a successful line of
products, if you opened your first Instagram account last month, if youre a
social media pro, or if youre just thinking about starting a future blog,
then Alt Summit is for you.
PR Measurement Conference
Feb 1-2, 2017
Miami
$795
Learn how to set measurable goals and objectives, research and data-collecting tools you can
use (even on a budget), how to go beyond social media vanity metrics and how
to effectively report your efforts without fearing the numbers.
Attendees will also learn how to follow the Barcelona Principles for more
effective campaigns, the tools and techniques essential to building
beneficial relationships with journalists and how to research and measure
influencer marketing efforts.
Social Media Strategies Summit
Feb 7-9, 2017
San Francisco
$2,099
Fuel your Social Media Strategy through compelling content,
customer experience,brand storytelling,advocacy and technology
Big 5 Social Media Boot Camp
Feb 8, 2017
Greenwood Village, CO
$895
Beat network algorithms to vastly expand the organic reach of your messages . Get your customers and
vital stakeholders to engage with you rather than just consume your content.
Exceed expectations with the 1:1 engagement that social media is supposed to
be about. Tap into the power of live video-streaming on Twitter Periscope,
Facebook Live and YouTube Live Mobile Video
Pubcon SFIMA Summit 2017
Feb 21-22, 2017
Fort Lauderdale
$699
Pubcon SFIMA Summit
2017 is a prime opportunity for area professionals and local marketing
agencies to learn from leading Pubcon speakers at an exceptional event with
tracks and workshops dedicated to digital marketing, search engine
optimization (SEO) and marketing (SEM), social media marketing and more, all
supported by local search and social media speakers and groups.
Digital Summit Phoenix
Feb 22-23, 2017
Phoenix
$245-$645
Digital Summit is where ideas and inspiration are born.
Thousands of professions work directly with industry leading brands learning
practical, actionable solutions they can immediately apply back at the
office.
PR News Business Leadership for Communicators Boot Camp
Feb 23-24, 2017
Huntington Beach, CA
$2340
A Two-Day Immersion in Brand-BuildingDigitalCommunications and Crisis Management
Digital Marketing Financial Services West
Feb 27-28, 2017
San Francisco
$2795
Drive conversion, create loyalty, and maintain your competitive edge. Adopt cutting edge tactics from
leading innovators to differentiate your financial brand. Stay ahead of the
curve with crucial insights to:. Maximize digital ROI. Increase conversion
. Enhance attribution. Improve customer loyalty. Drive
brandengagement
#SMWNYC
Feb 27-Mar 3, 2017
New York
$2995
Social Media Week New York is one of the premiere digital media conferences in the United States.
The event brings together some of the industrys leading brands and
individuals at the intersection of entertainment, media, marketing and
technology, including Facebook, The New York Times, National Geographic,
Warby Parker, Comedy Central, Google, GE, Spotify and LinkedIn.
Western District Conference
Mar 2-3, 2017
Riverside, CA
$325
Our goal of the Western District is to celebrate and promote leadership, network and advance the
public relations profession, build relationships with our chapters, and
create organizational strength by consistently refining and honing our
training, networking activities, events, and board meetings which
share best practices.
DX3
Mar 8-9, 2017
Toronto
$500
Dx3 is an immersive and educational experience that is centred
around the changing world of digital marketing and retail. Come and learn
from industry experts and interact with the technology that is changing our
industries and shaping our behaviours.
The International Public Relations Research Conference
March 8-12, 2017
Orlando
$450
The International Public Relations Research Conference is a nonprofit dedicated to supporting socially
beneficial public relations research that increases understanding, builds
relationships, support ethical socially responsible performance, and advances
the development of an increasingly democratic global society.
imedia Social Media Conference
Mar 10-11, 2017
Edmonton
$235CAD
Youll enjoy interactive, practical learning experiences with
industry pros and plenty of networking opportunities with your peers.Were
confident that youll walk away from the conference with new knowledge,
feeling energized and ready to put your learning into practice in the real
(not-so-perfect) world.
Changing Media Summit
Mar 15-16, 2017
London
£999.00+£31.48Fee+£206.10VAT
The Guardians Changing Media Summit is our flagship media
event bringing together the industry to discuss how to rebuild trust
Digital Marketing Financial Services
Mar 21, 2017
London
$749 + VAT
Capitalise On The Latest Customer Trends, Digital Innovations & Advanced Social Media Strategies
Whilst Navigating Regulatory Constraints ForPowerful, Engaging Digital
Marketing In Financial Services:Practical Insights To Optimise The Digital Customer
Journey & Future-Proof Your Strategies With Channel Attribution &
Exceptional, Personalised Content Which Leverages Data Insights &
Delivers On the Bottom Line
Digital Marketing Innovation Summit
Mar 21-22, 2017
New York
$2395 (Early Bird)
28+ industry speakers & 150+ delegates: the Digital Marketing Innovation Summit invites
commercial leaders to come together in candid conversation to establish real
strategic solutions to the challenges the industry currently faces.. .
Presence at this summit is essential if you want to effectively utilize
new technologies to improve your consumer communications and establish a
consistent on and offline experience.
SMX West
Mar 21-23, 2017
San Jose
$1695
Search marketing continues to be the biggest and
most powerful form of digital marketing. Search Marketing Expo has been
the leading conference for SEO & SEM professionals since 2007, helping
thousands of marketing practitioners succeed with actionable tactics.
Social Media Marketing
Mar 22-24, 2017
San Diego
$1597
Social Media Marketing World 2017 is the world's largest social media marketing conference. By
attending, you'll make connections with 120+ of the world's top social media
pros (plus 4,000 of your peers) and you'll discover amazing ideas that'll transform
your social media marketing. The event takes place in San Diego, California
on March 22, 23 and 24, 2017. You'll want to watch the video to the
left.
Social Media Conference for PR, Marketing and Corporate
Communications
Mar 27-29, 2017
Florida
$1895
At this conference, youll learn how to use social media to
develop solid engagement with your brand through social listening, authentic
stories and messages your customers and employees cant wait to share!
NAPA Summit
Mar 30, 2017
Napa Valley, CA
$795+($43.80 Fee) (Early Bird)
Napa Summit is an exclusive event focused on inspiring &
educating enterprise digital marketing professionals. Napa Summit is more
than just an event; we endeavor to foster relationships, accelerate growth,
and mold your role as a digital marketing leader.
PRSA Counselors to Higher Education (CHE) Senior Summit!
April 5-7 2017
Washington, DC
$1075
As a higher education communications counsellor, strategic planning, crisis management and media
relations are just a few of your responsibilities. Which higher education
communications trends should you be on the lookout for in the semesters
ahead? Find out at the PRSA Counsellors to Higher Education (CHE) Senior
Summit! Take notes on the latest on-the-job challenges and opportunities
facing college and university counsellors. Designed by higher education
communicators for higher education communicators, the Senior Summit's program
is developed by the PRSA CHE Section.
Health IT Marketing & PR Conference
April 5-7 2017
Las Vegas
$1395
Were excited by what we have planned for HITMC 2017 with dozens of sessions from
leading healthcare IT marketing and PR professionals. Over the
3days of the conference, youll have an opportunity to learn the latest
in content marketing, marketing automation, event marketing, healthcare
Public Relations, branding, media relations, and much, much, more.
Plus, youll get to network with hundreds of others just like you. Take
a look at the HITMC 2017 conference schedule at a glance to get an
idea of what sessions we offer.
MarketingSherpaSummit 2017
Apr 10-13, 2017
Las Vegas
$2285
Discover how-to details and strategies for fast, measurable digital marketing success at our twelfth
annual conference. All of this real-world experience is grounded in
rigorous research and is taught by successful marketers who face your same
challenges. Learn how to make your campaigns – and your career –
more successful than ever and do it in a world-class venue. It's no wonder
leading organizations consider MarketingSherpa Summit a priority investment
year after year.
ClickZLive
Apr11-13, 2017
New York
The conference will cover areas like provides an unrivalled forum to hear from world-renowned speakers
as they deliver an action packed, educationally focused agenda on the latest
digital marketing tips, tricks and tools that will blow your mind, make you
re-think your strategy and provide actionable takeaways to revolutionize your
marketing campaigns.
Content Marketing Conference
Apr 11-13, 2017
Boston
$1647
CMCs core focus is to deliver the tactics and techniques you need to grow your
business organically – the content marketing way. CMCs speakers
are so great, we decided to call them superheroes this year, celebrating
their commitment to rid the world of bad content, and help us grow our
businesses organically – the content marketing way!
2017 Government Social Media Conference & Expo
April 11-13, 2017
Dallas
$745
Government Social Media Conference >
Dallas
April 11-13, 2017
$745
GSMCON is the first major social media conference
for U.S. city, county and state government agencies. The event was founded
and organized by Government Social Media LLC.
Midwest Digital Marketing Conference
Apr 12-13, 2017
St. Louis
$249
Learn from the best marketers in the industry at MDMC17.
Digimarcon Cruise 2017
Apr 16-21, 2017
$995
Its the one digital marketing event you cant afford to miss! Whether your goal is to reinforce
customer loyalty, improve lead generation, increase sales, or drive stronger
consumer engagement, DIGIMARCON CRUISE 2017s agenda will help attendees
enhance their marketing efforts. Sessions will focus on building traffic,
expanding brand awareness, improving customer service and gaining insight
into todays latest digital tools.
6th Digital Marketing for Medical Devices West
Apr 17-19, 2017
San Francisco
$3095
Digital Marketing for Medical Devices West is designed to provide device marketers with the tools
they need to improve brand recognition, increase sales and ensure their
products are front-of-mind for their customers, whether they are surgeons,
patients and/or hospital administrators. As part of the longest-running and
best-attended event series specifically for device marketers, the 6th Digital
Marketing for Medical Devices West conference is a must-attend event for
anyone looking to learn from industry leaders and network with peers.
PRSA Southeast District Conference
Apr 19-21, 2017
Birmingham, AL
$245
The conference theme is ÒAlways On: Strategies to
Navigate 24/7 DemandsÓbecause that is the world we all live in. All day.
Everyday. We are all always on and even worse, expected to be always on.
Digital Media Summit
Apr 19, 2017
Toronto
All registration is now
available on site only
Marketing United
Apr 19-21 2017
Nashville
$945(Early Bird)
Marketing United brings together some of the worlds top
marketers to share their tips, tricks, and stories to inspire the attendees.
Each session promises to be informative and exciting.
PR Measurement Conference
Apr 20-21, 2017
New York
$1845
. Youll walk away with
the skills to:. Create measurement dashboards that communicate PRs business
value. Measure the impact of your messages across Facebook, Twitter,
Instagram and YouTube . Integrate the industry standard Barcelona Principles
2.0 into your measurement strategy. Measure media coverage and tie it to
organizational goals. Apply social insights to communications strategy
PRSA Northeast District Conference
Apr 28, 2017
New York
Join us in the beautifulFinger Lakes region of New York for the 2017 PRSA Northeast District
Conference, PRXNE 2017, on Friday, April 28, 2017. More than 200 public
relations practitioners from the seven-state PRSA Northeast District are
expected for this day-long conference packed with keynote presentations, case
studies, panels and much more. Plan to network with colleagues and emerging
professionals, and hear from experts across the industry.
2017 NTCA PR and Marketing Conference
April 30–May 2, 2017
San Diego
Participate in the annual TeleChoice Awards, which recognize
excellence in marketing and PR, provides an outlet for members to showcase
their work such as marketing campaigns, customer newsletters, websites and
more.
Social Media Camp
May 3-4, 2017
Victoria
$729(Early Bird)
Social Media Camp always examines the larger societal
implications of social media, tackling areas such as ethics, behaviour,
politics, religion, relationships, etc.
PRSA 2017 Counselors Academy Conference
May 7-9, 2017
Seattle
$1300
The PRSA Counselors Academy Conference features the
C-suite conversations, case studies and research that sparks growth
and inspires the evolution of existing programs. Designed by agency
leaders for agency leaders, this conference is developed by the PRSA
Counselors Academy.
Digimarcon East 2017
May 8-9, 2017
New York
$1095
Its the one digital marketing event you cant afford to miss! Whether your goal is to reinforce
customer loyalty, improve lead generation, increase sales, or drive stronger
consumer engagement, DIGIMARCON EAST 2017s agenda will help attendees
enhance their marketing efforts. Sessions will focus on building traffic,
expanding brand awareness, improving customer service and gaining insight
into todays latest digital tools.
Martech
May 9-11, 2017
San Franciso
$1495
MarTech is a vendor-agnostic forum for understanding the breadth of marketing technologies
and how organisations can effectively integrate them into their marketing
strategy and operations.. Well create an inspiring, cross-pollinating
environment that transcends the traditional boundaries between marketing and
IT and encourages creative collaboration across the organization. MarTech is
a conference for the growing community of senior-level, hybrid professionals
who are both marketing-savvy and tech-savvy: marketing
technologists, creative technologists, growth hackers, data scientists, and
digital strategists.
Adobe Summit 2017
May 10-11, 2017
London
The premier event for digital marketing professionals, Summit has the latest insights from the
worlds leading digital marketing experts. Discover new strategies to
transform your business and deliver customer experiences that are personal,
engaging and consistent across every device — experiences that build
lasting customer loyalty.
Digital Marketing in Healthcare Summit
May 10-11, 2017
Philadelphia
$2295(Early Bird)
As the Healthcare industry moves forward and begins to optimize new digital marketing platforms
and technologies, this summit will investigate the role these innovations are
having within the industry and how they are increasing competition,
efficiency and output. This summit looks to answer questions on how to
implement these new digital marketing initiatives and which technologies are
providing the leading edge within the healthcare industry.
Mobile X Festival
May 10-11, 2017
Atlanta
The Mobile X Festival is an un-conference for businesses that
want to use mobile to grow their sales and revenues.
The Social Media Results Conference – Future Strategies
May 11, 2017
London
£1899.00+VAT
Advanced, Practical, Results-Driven Social Media Strategies
With Impact:Maximise ROI & Cultivate Long-Term Engagement With Innovative
Platform Strategies Which Harness New Trends & Effectively Target
Audiences With Relevant, Stand-Out Content!
Thinking Digital
May 16-17, 2017
Newcastle UK
$150
An annual conference for those curious about technology, ideas
and our future
Digimarcon Canada 2017
May 18-19, 2017
Toronto
$1095
Its the one digital marketing event you cant afford to miss! Whether your goal is to reinforce
customer loyalty, improve lead generation, increase sales, or drive stronger
consumer engagement, DIGIMARCON CANADA 2017s agenda will help attendees
enhance their marketing efforts. Sessions will focus on building traffic,
expanding brand awareness, improving customer service and gaining insight
into todays latest digital tools.
Social Shake-Up Conference
May 22-24, 2017
Atlanta
$1790
To get your messages across the digital and social universe
and to test their effectiveness you must navigate the ins and outs of live
streaming, SEO, storytelling, social selling, Snapchat, Instagram and so much
more.
The Digital Content Summit 2017
May 23, 2017
London
£1,198.80
The Digital Content Summit is a must-attend event for all
senior professionals interested in publishing, content development, social
media, digital, marketing, innovation, creative and brand management.
Canadian Public Relations Conference
May 28-30, 2017
Kelowna, BC
$1925 CAD
Each year, the CPRS
National Conference welcomes hundreds of delegates from across Canada.
Featuring a combination of keynote speakers, parallel workshops, panel
discussions and evening celebrations, its primary goal is to further
professional development in the field of public relations, and provide
networking opportunities with many top Canadian practitioners.
The PRSA Employee Communications Connect 17 Conference
Jun 14-16 2017
Denver
$1065
The PRSA Employee Communications Connect 17 Conference offers proven methods for
empowering individual employees to powerfully impact the overall
reputation and brand of an organization. Focused on actionable
insights, this unique conference features emerging best practices and
innovative techniques from colleagues at the helm of the most successful
campaigns.
Social Media Week
Jun 5-9, 2017
Los Angeles
$1695
Social Media Week Los Angeles is one of the premiere digital media conferences in the United
States. The event brings together some of the industrys leading brands and
individuals at the intersection of entertainment, media, marketing and
technology, including Instagram,, LittleThings, National Geographic,
Sundance, Forbes, Crackle, Big Spaceship, Vox Media, Edelman, Fullscreen, The
Economist, Bleacher Report, Upworthy and Giphy.
IABC World Conference
Jun 11-14, 2017
Washington
$2100
Conference sessions will be organized into five tracks:
communication skills, leadership and strategy, marketing and brand,
reputation and employee engagement. Presentations will align with
IABCs Global Standard, be categorized by career level and
contribute to your professional certification.
Digimarcon West 2017
Jun 14-15, 2017
Santa Monica
$1095
Its the one digital marketing event you cant afford to miss! Whether your goal is to reinforce
customer loyalty, improve lead generation, increase sales, or drive stronger
consumer engagement, DIGIMARCON WEST 2017s agenda will help attendees
enhance their marketing efforts. Sessions will focus on building traffic,
expanding brand awareness, improving customer service and gaining insight
into todays latest digital tools.
#DMWF Expo
Jun 19-20, 2017
London
£849
#DMWF has an 8-year history of bringing together the worldwide marketing community to examine the
latest trends, challenges and areas of opportunity in the marketing industry.
This years event will showcase the latest Digital Marketing
Technologies; Virtual Reality and Artificial Intelligence and explore Digital
Marketing Strategies, eCommerce, Influencer Marketing, Content Marketing,
Data, Mobile Marketing and Analytics across five dedicated conference
streams.
Digital Marketing Financial Services Summit
Jun 21-22, 2017
Toronto
Registration Closed?
The largest gathering of financial marketers in North America
– flagship event in Toronto!
International History of Public Relations Conference
July 5-6, 2017
Bournemouth University, England
£290
For 2017, there is an additional theme of Governmental PR and communicationsÓ. This includes
all aspects of the history of publicity, PR, policy communication and
propaganda from governments across time, including the different types of
governments (democratic, monarchical, dictatorships, one-party states,
post-colonial, etc). Research around this area may offer insight into the
links between PR history, political communication and propaganda studies.
2017 ANA Digital & Social Media Conference
12-14 Jul-17
San Diego
$1295
As the premier marketing and advertising association, ANA has long served the changing needs of
marketers and protected the well-being of the marketing community. ANA's
mission is to raise the standards of marketers, their companies, their
brands, and the marketing industry as a whole. Today ANA represents 1,000
leading companies, representing or supporting nearly 15,000 brands.
Mozcon
17-19 Jul-17
Seattle
$1349
MozCon is not your typical marketing conference. Join us for three days of forward-thinking
content and actionable advice from industry leaders in SEO, social media,
community building, content marketing, brand development, CRO, analytics, and
more. MozCon speakers share next-level advice on everything from building a
loyal community to making data-driven decisions in your marketing. You wont
find any stuffy networking events here – you can connect with our
amazing community of industry leaders, chat with the speakers and Moz staff,
pick up some cool swag, and even get a hug from our friendly robot,
Roger.
Social Media & Society
28-30 July-2017
Toronto
$445
Our online behaviour is far from virtual–it extends our offline
lives. Much social media research has identified the positive
opportunities of using social media; for example, how people use social media
to form support groups online, participate in political uprising, raise money
for charities, extend teaching and learning outside the classroom, etc.
However, mirroring offline experiences, we have also seen social media being
used to spread propaganda and misinformation, recruit terrorists, live stream
criminal activities, reinforce echo chambers by politicians, and perpetuate
hate and oppression (such as racist, sexist, homophobic, and anti-Semitic
behaviour). Furthermore, behind the posts are algorithms, power structures,
commercial interests and other factors that surreptitiously influence our
experiences on social media.
Digital Summit Minneapolis
14-15 Aug-17
Minneapolis
The conference will cover areas like narrative design, digital
personas, millennial marketing, growth hacking, digital storytelling and many
more.
Content Marketing World Conference and Expo
5-9 Sep-17
Cleveland
$1495
Content Marketing World is the one event where you can learn
and network with the best and the brightest in the content marketing
industry.
Digital Summit Detroit
9-10 Sep-17
Detroit
Inbound 2017
25-28 Sep-17
Boston
$2199
INBOUND 2016 featured
almost 300 breakout sessions from some of the biggest names and brightest
minds in sales and marketing. From Ann Handley on how slow is the new fast to
Jill Konrath on how to sell more in less time, INBOUND 2016 was packed with
dozens of new tactics to take your business to the next level – and 2017
will be too.