GutterSupply.com Earns its Status as a Leader in Online Galvanized Gutters
Industry: Home Care
GutterSupply.com announces its unprecedented status as the world leader in its selection of galvanized gutters online.
Lake Bluff, IL (PRUnderground) August 7th, 2017
Whether they are serving a homeowner interested in learning more about the best gutter options for their homes or contractors who want to purchase some of the best products in the industry at discounted prices, GutterSupply.com has certainly earned its status as a leader in online galvanized gutters.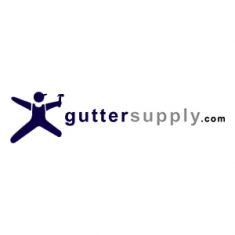 The company provides a huge selection of gutters and accessories from which to choose, including some of the most durable and affordable galvanized options available online today. Their galvanized gutters are made from hot-dip steel, and they've been used on homes in the US and worldwide for well over a century. When steel gutters are dipped in zinc, they take on many of the properties of that zinc, which provides durability and corrosion resistance that can't be provided by any other material.
Not only does galvanized steel create a barrier between the environment and the steel below, when zinc is applied in the form of a hot dip, it also provides cathodic protection. Simply put, it's a term used to describe attaching an easily-corroded material to the main source of metal, which then acts as an anode for protection. Galvanized steel lasts far longer than traditional iron or steel gutters for this very reason.
Of course, GutterSupply.com provides all the accessories required for the successful, long-lasting installation of galvanized gutters, too. This includes everything from galvanized miters, sheets, downspouts, and elbows to ensure that homeowners receive all the benefits of galvanization from start to finish.
GutterSupply.com is the nation's largest and most knowledgeable supplier of gutters, accessories, and gutter machinery. Both consumers and contractors can find a wealth of products and information designed to help them make better buying decisions for both now and in the future. It's a family-owned company that, despite its growth, still maintains the methods and mindset of a small, local business.
About Gutter Supply