Hamco Launches New Food Packaging Products for Essential Restaurants & Ready-To-Eat Food Suppliers
Industry: Restaurant/Hospitality
New essential food packing supplies has recently been added in response to the COVID-19 pandemic to support essential ready-to-eat food suppliers in Long island & NYC
New York, NY (PRUnderground) May 8th, 2020
HAMCO Paper has recently added two new paper products in response to the COVID-19 pandemic. Our priority is the safety of our team and our clients and their customers, so in response we have added surgical style protective face masks and tamper proof seals for food packages.
HAMCO face protection system masks are 3-layer surgical grade, soft, odorless and non-irritating—fiberglass free. They are 99% effective in filtering out bacteria (such as the coronavirus) dust, smoke & pollen. In addition to being easy to breathe thru they are approved for infant care. Masks are packaged 50/per, in stock and ready to deliver to you next day or even today!  Follow the New York State guidelines effective April 17th by using these high-quality, comfortable face masks. Protect your team and your clients today!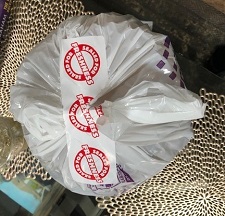 Restaurants, fast food chains and other ready-to-eat food suppliers, enhance the safety of your customers with these tamper-proof security labels for containers and bags. Made with a patented strong adhesive and a special tamperproof zig-zag perforation to provide your customers with peace-of-mind. Available in 2" round (perfect for containers) and 1.9" x 6" rectangle for bags, etc. in rolls of 500/4 rolls per box. Generic "Sealed for Freshness" label or custom labels with your logo and any additional information available; provide logo, all details and color for pricing. And not only are these labels for safety, they also address Grub Hub® customer's #1 complaint 'missing French Fries!'
HAMCO has a full range of products for restaurants including paper straws introduced last year. These are made with organic glue that does not affect taste or feel and last up to 6-hours in liquid. The straws are currently available in both black and white in a paper wrapper in 7 3/4" standard and a 5 3/4" cocktail sizes, both the straws and paper wrappers can be customized.
Place your order today! HAMCO is local and delivery is always free in NYC, Long Island, Queens & Brooklyn. We are pleased to offer bulk orders, same day delivery and easy payment terms—don't forget our thermal paper rolls for POS systems, etc. For an immediate price quote for your specific needs, please call Jim at 516-489-2313/800-426-2664 or visit our website our motto is 'you call us, you've got it!' HAMCO is proud to be associated with the New York State Restaurant Association.
PRICING AND ORDER INFORMATION PLEASE CONTACT HAMCO PAPER
HAMCO Paper is open and operating during the coronavirus crisis. Please call during regular business hours for same day delivery as normal.
Our thoughts and prayers go out to all our valued family of customers. We thank you for your support during this trying time.
custom food packaging supplies, food packaging supplies near me, food wrappers, disposable packaging, food packaging suppliers, restaurant packaging, safe packaging, food service packaging, custom restaurant packaging, healthy food packaging, pos rolls, pos paper, point of sale, food packing, distributors, suppliers, hamco paper.
About Hamco Paper
As distributor Hamco deals in paper stationary and office products required by various businesses. The company supplies stationary items including printer paper rolls in wholesale. Hamco deals in a large item range and offers bulk purchase price benefit.
Hamco supplies to offices, restaurants, fast food chains, gas stations; retail stores, engineering firms, banks and related industries. Our core focus is on products like POS paper rolls, ink ribbons, bond, thermal and carbonless paper. We also supply custom guest checks, crayons, placemats and order pads for restaurants.
Hamco offers next day service in the following areas: Long Island, West Hempstead, Queens, Brooklyn, New York City, New England, Southern New York State and New Jersey.Our slogan is: "you call us…you've got it" that is: we have the office stationery in stock ready for immediate shipment, and in some cases that means same day delivery.
We are looking forward to expand our distributor network in areas near NY, LI and New Jersey. Please contact us for terms and conditions.